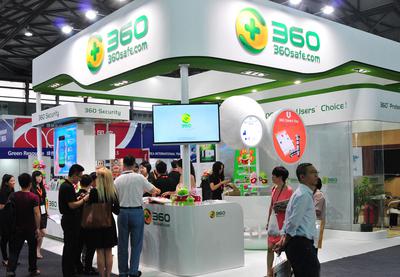 360 Security Technology's lowest price based on its current raised funds through a private placement might be at RMB 7.98 per share, which is still uncertain, as reported in the 21st Century Business Herald on Thursday.
360 Security Technology stated that the lowest price could not be determined merely by computing the total amount of the currently raised funds of RMB 10.794 billion divided by the issued shares of RMB 1.353 billion to arrive at RMB 7.98 per share.
360 Security Technology also stated that the issue price would be higher than 90 percent of the average of the 20-business-day stock prices before the pricing benchmark. The number of issued shares through a placement would be computed using the total raised funds divided by the final issue price.
A private equity executive in Beijing said that the price of RMB 7.98 per share is the lowest price in theory, which did not contain any practical significance and the reference value. He explained that if the stock price of 360 Security Technology kept on rising to RMB 100 per share, for example, the number of issued shares would be 108 million shares based on the raised funds of RMB 10.8 billion.
This private equity executive suggested that a low issue price would be more attractive to investors to subscribe shares through this private placement. For small and medium-sized investors, the return per share might be diluted.
After resuming its trading on May 16, 360 Security Technology had a stock price of RMB 37.89 per share,, which closed at 3.07 percent higher. The latest market value was RMB 256.3 billion. Compared with its highest market value of RMB 444.2 billion on February 28, the market value had dropped by RMB 187.9 billion in only two and a half months.
A strategy analyst said that the rapid growth of its stock price, in the beginning, contained speculations and bubbles. Currently, the enterprise value of 360 Security Technology cannot support its stock price, so its market value decreased quickly.