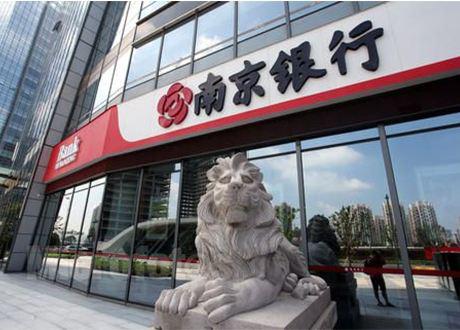 The Bank of Nanjing (601009), whose stocks are included in the Morgan Stanly Capital International (MSCI) Emerging Markets Index, became the first A-share listed bank to release its audited semi-annual financial report Friday, revealing enhanced profitability during the first half of 2018.
The bank generated a total of over RMB 13.49 billion in operating revenue during the reporting period, a year-on-year growth of 8.62 percent. Its net profit also increased by 17.4 percent from a year earlier to reach around RMB 7.23 billion.
The increase in both revenue and profit led to a 4.6 percent growth from the beginning of this year in the bank's total assets, which hit more than RMB 1.19 trillion by the end of June.
The bank's basic earnings per share (EPS) rose by 16.67 percent while its weighted average rate of return on equity also climbed 0.3 percentage points during the fiscal period.
During the first half of 2018, the bank strengthened its capability in risk control with its capital adequacy ratio up by 0.12 percentage points.
The bank received more than RMB 761.26 billion in deposits over the reporting period, an increase of 5.35 percent from the beginning of 2018. It extended around RMB 436.12 billion in loans, which grew by 12.13 percent during the same period.
The quality of the bank's asset remained stable during the fiscal period with its ratio of non-performing loans to total loans unchanged at 0.86 percent.
The bank saw its strategy to attract retail deposits bear fruit over the first two quarters of this year with the total amount of its retail deposits rising by 19.38 percent from the beginning of the year, which marked a much faster pace than the growth in its total deposits.
It also stepped up its effort to finance small and micro enterprises during the reporting period. The amount of the outstanding loans the banks extended to such enterprises grew by 12.4 percent from the beginning of the year.
Major accounting data and financial indicators
Unit: A Thousand Yuan
| | | | |
| --- | --- | --- | --- |
| | End of June 2018 | End of 2017 | Increase or decrease (%) |
| Total assets | 1,193,630,553 | 1,141,162,795 | 4.60 |
| Net assets attributable to shareholders of the company | 71,836,887 | 67,340,478 | 6.68 |
| | Reporting period (Jan-June) | Same period in 2017 | Year-on-year increase or decrease (%) |
| Net cash flow from operating activities | 4,427,249 | -36,926,601 | 111.99 |
| Total operating revenue | 13,495,729 | 12,425,083 | 8.62 |
| Net income attributable to shareholders of the company | 5,977,771 | 5,104,527 | 17.11 |
| Net income attributable to shareholders of the company, net of non-recurring gains and losses | 5,977,545 | 5,091,557 | 17.40 |
| Weighted average rate of return on equity (%) | 9.81 | 9.51 | Up 0.3 percentage points |
| Basic EPS (yuan/share) | 0.70 | 0.60 | 16.67 |
| Diluted EPS (yuan/share) | 0.70 | 0.60 | 16.67 |