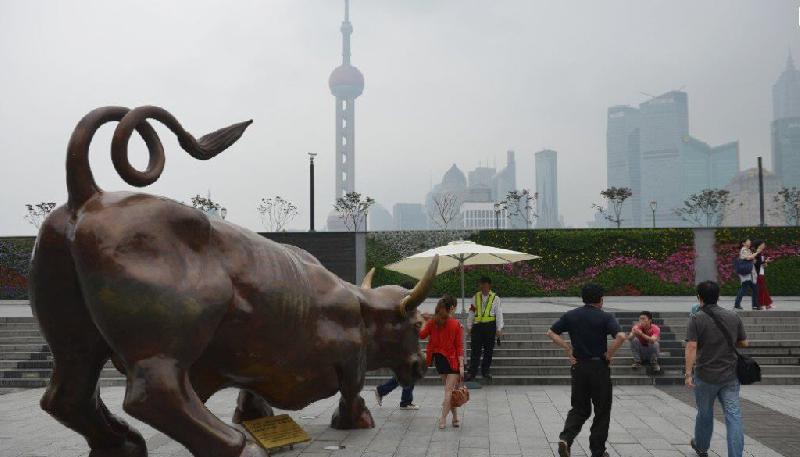 China credit spreads hit their widest level in nearly two years this week following new regulations that undermined long-held assumptions about implicit guarantees on debt linked to local governments.
Chinese localities have long used arm's length local government financing vehicles (LGFVs) to skirt restrictions on direct fiscal borrowing and to finance infrastructure, contributing to a surge in economy-wide debt since 2008. LGFVs are among the biggest borrowers in the local bond market.
The spread between yields on 5-year Chinese government bonds and 5-year medium-term notes rated double A minus reached 3.6 percentage points on Monday and remained at that level on Tuesday, according to data from the National Interbank Funding Center. Six months ago the spread was only 2.51 points. Double A minus is equivalent to junk rating in China's domestic bond market.
A missed debt repayment by an LGFV to a non-bank lender late last month has also spooked investors by raising the possibility Beijing was willing to tolerate defaults on LGFV debt.
Tianjin Municipal Development, a financing platform owned by the megacity of Tianjin, failed to repay half of a Rmb500m ($79m) trust loan that matured on April 27, according to China Chengxin, a Chinese credit rating agency. The company said it would repay the outstanding Rmb250m on June 29.
In a similar incident in January, an LGFV owned by the Yunnan province, in China's south-west, missed deadlines to repay Rmb1bn in trust loans, though the loan was repaid the following month.
An LGFV has never defaulted on a publicly traded bond in China's domestic market, but the trust loan defaults are viewed as a possible harbinger of other credit events as China tightens regulation of local borrowing as part of a campaign against financial risk.
"This [Tianjin LGFV] incident illustrates that, as the financial clean-up deepens, the financing environment for these platforms will continue to tighten," Yuan Haixia, macroeconomic analyst at Chengxin, wrote on Tuesday. "The outbreak of liquidity crises affecting these platforms will accelerate."
The finance ministry in 2014 lifted a blanket ban on direct borrowing by local governments, to "open the front door and close the back door".
But LGFV borrowing for infrastructure has not stopped. Instead of outright prohibition, the government has sought to draw a clear boundary between localities' fiscal budgets and off-budget vehicles, insisting that the latter must act as commercial entities, with no implicit guarantee from their government owners.
In late March, the finance ministry took further steps to discourage disguised fiscal borrowing. "Document 23" prohibits financial institutions from lending to infrastructure projects that are not economically viable or carry illegal government guarantees.
"It's in line with all the previous regulations regarding local government financing, but it's the first time they have mainly targeted financial institutions, which are the funding providers. It indicates the government will intensify control of this kind of lending," said Ivan Chung, head of greater China credit research at Moody's in Hong Kong.
Also contributing to investor jitters are sweeping new rules on shadow banking that are also expected to shrink financing to LGFVs and other weak borrowers.
A group of regulators led by the central bank issued the final version of those rules in late April, after issuing a draft version in November.