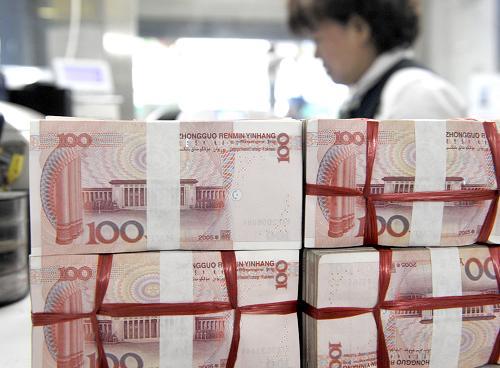 China's consumer price index (CPI) fell by 0.2 percent in April from the previous month, up 1.8 percent from the same period last year, a decrease of 0.3 percentage points from last month, according to data released by the National Bureau of Statistics (NBS) on April 10. The producer price index (PPI) fell by 0.2 percent from the previous month, up 3.4 percent from the same period last year, an increase of 0.3 percentage points from last month. Experts said that in the short term, China's CPI and PPI have no ground for substantial growth, and inflation will be
moderate and controllable
. There is large room for monetary policy which is yet to be kept neutral and prudent.
Inflation will be moderate and controllable
"In the, were the main influencing factors." Ro Guoqing, he National Bureau of Statistics stated that food prices rose by 0.7 percent in April, pushing the CPI up by 0.13 percentage points. Non-food prices rose by 2.1 percent, contributing an increase of approximately 1.67 percentage points the CPI.
CITIC Securities' chief fixed-income analyst Ming Ming believes that the continuous depression in pork prices was a major factor that drags down food prices and overall inflation. The second half of the pork price cycle extends due to environmental factors. Pork prices are still at the bottom as oversupply in the market has not improved.
Deng Haiqing, chief global economist at JZ Securities, said that the rapid rise in vegetable prices at the beginning of the year was only due to the cold weather in the Spring Festival However, as the weather factor is not sustainable, vegetable prices may further decline.
"CPI has no base to rise sharply in the future. Inflation will be moderate and controllable." Wen Bin, chief researcher at China Minsheng Bank, said that it is necessary to pay attention to pork prices. The year-on-year increase in pork prices has been significantly lower than in the same period of history. The price of pigs is also at the lowest point in three years. In the future, downward pressure on pork prices may be eased. Rising international oil prices may also drive up non-food prices.
Wang Han, chief macroeconomic analyst of Industrial Securities, said that there are two factors that will offset the impact of rising oil prices on the CPI. First, food prices experienced a rapid decline after a rapid growth at the beginning of the year. The accumulative quarter-on-quarter gains were at a relatively low level in recent years as of April. Second, after the medical services price reform was basically completed, the year-on-year increase in health care prices has continued to fall.
PPI continues to rebound
While CPI growth fell below 2 percent, the PPI rose slightly year-on-year in April.
"The rising PPI on a yearly basis is a result of low comparison base." Deng said that the PPI dropped by 0.4 percent in April of last month from the previous month, hitting the lowest record in history, which left a relatively low comparison base for this April. The year-on-year growth in PPI throughout this year is expected to no more than 2 percent.
"Slower construction after the Spring Festival led to a decline in growth of PPI of ferrous metal processing industry in April, which became a major contributor dragging down PPI growth in the month." Lu Zhengwei, chief economist of Industrial Bank, indicated that further recovery in carryover effect of PPI and rebound in steel price may push PPI growth to go up further in May.
Wen considered no significant rise in PPI in the future. Although influence of climbing international oil prices was reflected in commodity price in April, its influence was quite limited. PPI is expected to continue to pick up along with recovery in industrial output, increase in demand for major raw material and growing oil prices internationally.
Zhu Jianfang, chief economist of Citic Securities, thought that due to the low comparison base, year-on-year growth of PPI may move up steadily in next three months but then slow down after that. It is expected to come at about 3.5 percent in 2018, strongly supporting expansion in profits of industrial enterprises.
In the opinion of Li Qilin, managing director and chief macro-researcher of Lianxun Securitis, there were not obvious signs that hiking price in upstream sectors in previous stage influenced processing sector. Therefore, there's no need to worry about PPI influencing CPI currently.
"There's no basis for remarkable increase in China's CPI and PPI in the short term." Wen viewed that inflation will be controllable and monetary policy will be maintained prudent and neutral.
In the opinion of Deng, although the US Federal Reserve is under the cycle of raising interest rate, China, as the world's largest economy, should be highly independent in making monetary policy based on its domestic economic and financial situation. It is supposed to cut reserve requirement ratio (RRR) many times at an appropriate frequency this year or in a longer term. On the one hand, considering that growth in social financing scale will slow down and the trend of tight credit won't change easily in 2018, it needs to ease monetary policy to hedge the effect. On the other hand, under the strict supervision, restrain of MPA and the long-term regulatory mechanism in real estate sector, the effect of continuous cut in RRR and relaxing monetary policy will be only limited to reduce financing cost. Disorder in financial sector, leverage and bubble in real estate sector won't stage a comeback, which is an important premise and feasibility for relaxing monetary policy.
The mild commodity prices provide potential for policy to enlarge domestic demand, according to Yang Chang, analyst from Zhongtai Securities. While adjusting structure and expanding domestic demand, promoting consumption is expected to gain policy support in the future.
Translated by Coral Zhong & Vanessa Chen