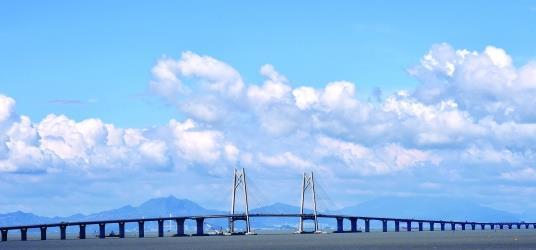 Foreign-funded banks have already eyed the opportunities in Guangdong-HK-Macao Greater Bay Area before the greater bay area's construction plan comes.
A number of foreign-funded bank executives said recently that they will actively participate in the construction of Guangdong-HK-Macao Greater Bay Area by taking use of their advantages and characteristics in cross-border business. In addition to plans to expand outlets and business scope, some foreign-funded banks have already considered their business in the Greater Bay Area as strategic projects at the cooperate level.
Foreign-funded banks see new development opportunities with policy support and
cross-border advantage
Pan Guangwei, the full-time vice president of the China Banking Association, said at a recent symposium that the forthcoming Guangdong-HK-Macao Greater Bay Area planning will involve urban construction, infrastructure, and industrial restructuring, technological innovation, international trade and cooperation and other fields. This will bring new development opportunities and huge market space for foreign-funded banks.
The Shanghai Securities News learnt from a number of foreign-funded bank executives that foreign-funded banks have certain operating in foreign exchange, offshore, cross-border trade and other business areas, and these advantages will amplify in the Greater Bay Area due to its geographical locations. Specifically, in the Greater Bay Area which is crossing border, trade finance, service finance, capital flow, renminbi outflow, and cross-border foreign currency are active here. Foreign-funded banks can explore in these areas for specialized operations.
Wu Naishen, general manager of Standard Chartered Bank (China) in South China and president of Shenzhen Branch, said that the Guangdong-HK-Macao Greater Bay Area has a unique advantage and positioning. It can be hardly to find such a complete ecosystem in other parts of the world. The 45-minute high-speed rail drive can cover innovation centers, manufacturing centers, and financial services centers. Here, innovative ideas can be produced, manufactured, and financed.
In fact, financial institutions, including foreign-funded banks, have already started to deploy the ear. According to relevant persons from the financial supervision department of Guangzhou, at present, they have to sign cooperation agreements with at least several financial institutions every week. And 80 percent of their working time is used to talk with financial institutions, including foreign-funded financial institutions. "Every day's work tasks are filled up, and Guangzhou's financial industry will surely become more and more popular," said the person.
This fiery scene has benefited from the policy opportunities brought about by the country's major strategy. It has also benefited from the tilt of the local authorities on financial policies. Take the Nansha Development Zone in Guangzhou as an example. Deng Xiaoyun, the director of the Financial Work Bureau of the Development Zone, said that they will provide support policies including settlement incentives, business contribution awards, corporate listing awards, and talent introduction awards.
A senior manager from E Sun Bank said that he can feel the great support from the People's Bank of China (PBOC) and various regulators when no matter the bank established headquarter in Shenzhen or applied to set up a branch in Guangzhou.
"Everybody is very practical at the greater bay. Now that some policies have been finalized, it make people feel it is real even when discussing the development of the area in next few years," said a senior manager from another foreign-funded bank.

Foreign-funded banks make moves before plans come
However, only preferential policies and relaxing market access are not enough for foreign-funded banks. Bai Ruiming, deputy secretary general of China Banking Association, considered that the opening up to foreign capitals should not be limited to market access alone. The government should provide follow-up service during process of actual operation, making them stay at a sound and sustainable environment for business.
Many foreign-funded banks put forward suggestions meeting their own demand on financial development at the greater bay during the symposium. For example, they suggested establishing credit file and connecting individual credit system between mainland China and Hong Kong; further liberating cross-border business to promote capital flow; directly connecting the existing e-business registration platform and banks in Hong Kong and Macau; offering essential support in terms of talents.
Senior managers of several foreign-funded banks pointed out clearly that their banks will make the most of their own advantages and actively take part in the development of the greater bay. There are signs that some foreign-funded banks planned to make deployment in the area.
Hong Kong-listed Chong Hing Bank has set up branches in places such as Hong Kong, Guangzhou, Shenzhen, Foshan, Macau, Zhuhai and Zhongshan. Cai Siyang, head of its Guangzhou branch, introduced that the bank basically established branches within the greater bay. The bank will continue to push forward deployment in Guangdong province and Pearl River Delta region.
A Japanese-based bank found the new business development trend and potential growth amid construction of the area. One of its senior manager said that "the development of the greater bay will give rise to various business opportunities including infrastructure construction. Japanese-based banks won't just only serve Japanese enterprises like what they did before. We can find many excellent opportunities among the state-level projects and construction".
Besides expanding deployment and business scope, foreign-funded banks also make planning based on strategy of headquarters. The Bank of East Asia has set up a greater bay working group in its head office in China, which will promote development of regional finance business. A person from one British-based bank disclosed that his bank has concluded construction of the greater bay into the group's long-term strategic planning. "We will input much time and labor resource in it."
Translated by Coral Zhong & Vanessa Chen