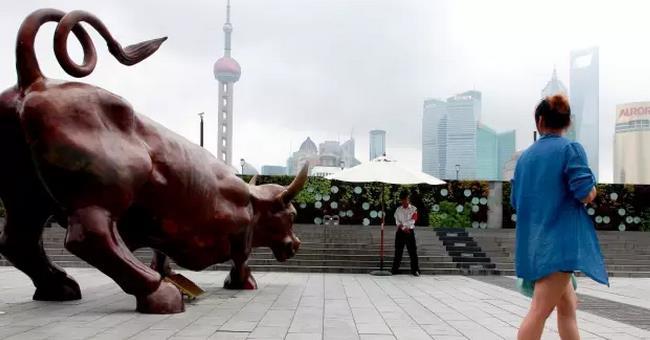 Commodities are struggling, China is cracking down on debt issuance, and Chinese companies are defaulting again. To some investors, this may all sound uncomfortably familiar—China's big troubles in 2015, including surging capital outflows and a historic stock crash, kicked off with a rash of bond defaults following regulators' attempts to rationalize the nation's freewheeling financial system.
The default on $350 million of dollar-denominated bonds by China Energy Reserve and Chemicals Group, which as recently as November was leading a $5 billion real estate deal in Hong Kong, is likely to further stoke concerns.
In 2015, an investor holds on to prayer beads as he watches a board showing stock prices at a brokerage office in Beijing, China.
There are reasons for worry. Factory-gate inflation is drifting downward, making heavy industrial debt harder to service: Real bank rates for industry hit 2.9% in the first quarter, the highest since late 2016. The spread between the yield on high- and low-rated corporate bonds has been widening. And 11 Chinese companies have defaulted on onshore bonds so far this year, two more than in the same period last year.
But it's also worth examining what's different, so far. Large-scale repayment problems for real-estate companies—among China's heaviest debt issuers—look a way off. Although price gains in China's property market have slowed, they are still rising in the bulk of the medium-size cities—unlike late 2014, when prices had already been falling for more than half a year. As long as housing prices keep rising, producer prices should stabilize too, helping keep China's industrial debtors above water.
The bond default numbers are less worrisome than they appear too. Four of the bonds were issued by the Port of Dandong on the North Korean border—a victim of stricter sanctions. Key money market rates have actually drifted lower since mid-2017. And unlike 2015, there's little evidence so far of a return to large-scale capital outflows draining bond-market liquidity.
None of this means bigger problems won't eventually materialize. One thing to watch is housing inventories. Steep falls since early 2016 have been key to the surprising strength of this housing cycle and better finances for China's debtors. Those inventories are still falling in some cities, but the pace has ebbed since late 2017.
The other thing to watch is the Federal Reserve. Higher global rates could reignite capital outflows from China, despite the country's controls. If that and higher housing inventories coincide in the months ahead, it will be time to get seriously worried about Chinese debtors again.
Source: The Wall Street Journal