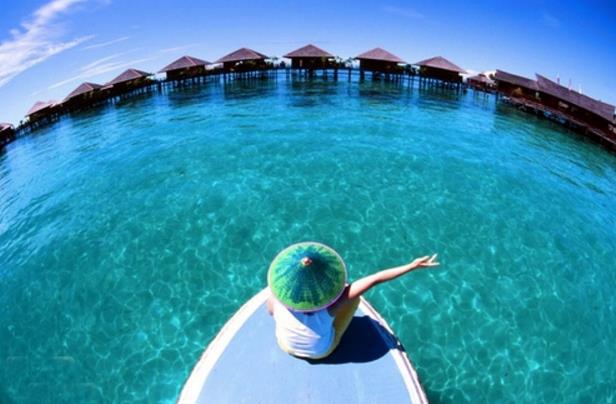 Many Chinese love to mock their own country's tourists for the stereotype of sleeping on group tour buses and only waking up to take selfies or go shopping.
But that image is changing. More and more Chinese tourists, especially millennials, are enjoying alternative travel experiences, such as "gliding down from the top of active volcanos in Nicaragua", and they are willing to spend more on their trips, according to a report from a leading online hotel booking company.
According to Hotels.com's annual Chinese International Travel Monitor report, in the past 12 months, Chinese travel expenditure on overseas destinations has increased by 40 percent. Some 60 percent of travelers responding to the company's survey expressed an interest in further expanding their budget when traveling abroad.
The booking site noted a particular increase in travel expenses among Chinese millennials, as those born after the 1990s and 80s have respectively increased their spending 80 percent and 50 percent more in the last 12 months.
Chinese tourists have created tremendous social and economic value for the international tourism market, said Nelson Allen, general manager of Hotels.com's Asia-Pacific region. He predicted that this will be the trend for decades to come.
Millennials are also reshaping national travel habits, as they are more willing to take a trip during off-peak seasons. Over the past year, 58 percent of Chinese traveled during off-peak seasons, led by millennials.
Around 50 percent of the tourists surveyed said they would like to start an unplanned journey in the future - simply packing their bags and leaving everything behind.
Some 65 percent preferred to design their own trips, 11 percent more than the year before. As millennials are generally more confident in speaking English, 71 percent of them would choose not to take a guided trip, the report said.
Tourists' preferred travel activities are also changing. Although 96 percent of surveyed Chinese tourists said they would go shopping in other countries, retail therapy is becoming less and less of a major draw, especially luxury products.
Unlike shopping, cultural factors are becoming increasingly decisive in the younger generation's trip planning. Over 56 percent said they would like to stay in an unconventional place, such as a tree house, warehouse or luxury camp.
They also look for adventurous or romantic experiences. Of those surveyed, 65 percent specifically chose walking in the mirror-like Salt Flats in Bolivia as their top wish, while 59 percent of them simply want to chill under a starry night's sky in California. Burning Man in the United States gained votes from 47 percent of the surveyed tourists.
Adrenaline-inducing activities, such as rafting, escape rooms and paintball are also on Chinese millennial tourists' bucket lists.
"Chinese going abroad for investment or trade have become a strong pull for tourism, and the growing number of Chinese tourists abroad will also stimulate trade," said Zhang Jianping, director of the Regional Economic Research Center of the Ministry of Commerce. "But it is also worth noting that current tourism services and infrastructure in China have not yet satisfied people's increasing demand for travel."