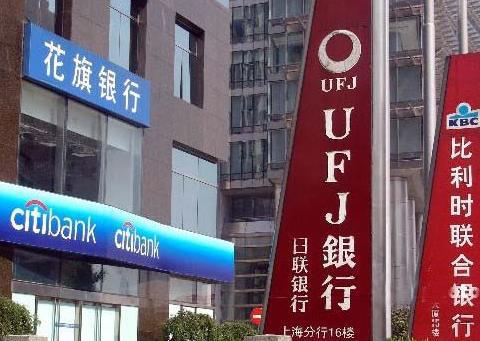 The China Banking Regulatory Commission (CBRC) said in a recently-issued notice that it will allow some foreign banks in China to carry out more businesses in the country. Industry insiders said that the move marks China's new step towards opening up its banking industry, which will make the industry's competition fiercer. But in a short run, it will not have any disruptive impact on the country's banking industry.
According to the notice, foreign banks in China can carry out treasury bond underwriting, custody and financial advisory services among other services, and without otherwise stipulated they can conduct such business without the CBRC's administrative license and report to the CBRC after such business has started. Secondly, foreign banks in China can cooperate with foreign headquarters to provide financial services to help Chinese banks to issue bonds, manage IPO, engage in acquisitions and financing abroad. Thirdly, foreign banks in China invest in some domestic financial institutions as long as they are sure the risks are controllable. The CBRC also required foreign banks to strengthen compliance and risk management when conducting the above-mentioned business.
Zeng Gang, director of banking research at the Institute of Finance and Banking in the Chinese Academy of Social Sciences, indicated that the move marks China's new step towards opening up its banking industry. There are multiple reasons to do so. Firstly, it is required by our own opening-up. Secondly, it is demanded by the business development of foreign banks in China. "Take custody business as an example, the asset management industry develops rapidly along with the market's rapid development and gradually becomes an important income source of commercial banks. Since foreign banks also need to optimize income structure and they are quite experienced in asset management business, such move helps foreign banks to further improve their business structure", according to Zeng.
Yang Yue, an economic analyst with Zheshang Bank, also remarked that foreign banks will see comparative advantages in specified business areas and regions in the future. As participants are constantly diversified and marketization is increasingly deepened in China's banking industry, foreign banks still see comparative advantages in multiple aspects like cross-border capital service, private banking service, global network and risks control abilities. It is expected that foreign banks will develop their own competitiveness in these segmented areas and conduct differentiated competition with local banks. But the launch of the policy will not bring significant strike and impact to China's banking industry in the short run.
Translated by Jennifer Lu and Coral Zhong