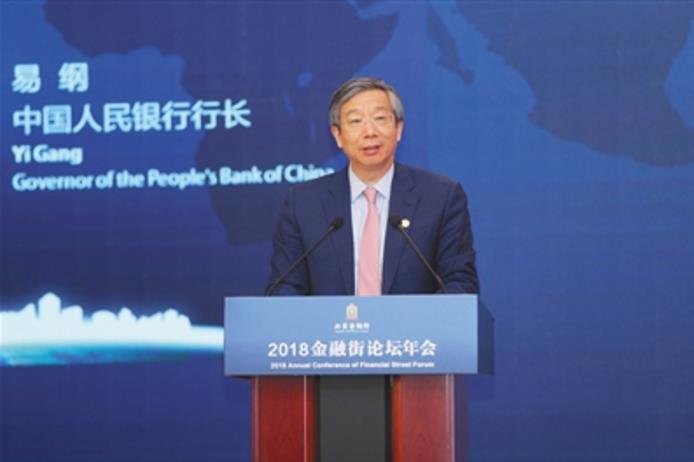 China's central bank governor elaborated on the three principles for China's financial opening-up at the 2018 Annual Conference of Financial Street Forum on Tuesday.
Yi Gang, governor of the People's Bank of China (PBOC), shared further explanations on these three principles he announced in early April at the Boao Forum for Asia Annual Conference 2018.
The pre-establishment national treatment and the negative list will apply to all market players.
The financial sector by nature is a competitive service sector. China's financial sector will be open to investors at home and abroad, whatever their types of ownership, as long as they can bring about better financial services.
These investors will all be treated equally to enjoy equal market access and equal-footed competition.
China's financial opening-up should proceed at the same pace as the reform of the RMB exchange rate formation mechanism and the capital account convertibility.
As China further opens up its financial sector, it also needs to simultaneously press ahead with the market-oriented reform of the RMB exchange rate formation mechanism and the further opening of its capital account.
These three tasks, going in coordination with each other, will be pursued at a steady path forward.
Financial regulations in China need to be improved to match the level of its financial opening-up.
The financial opening-up, which will result in financial innovations and capital flows across markets, regions, and countries, necessitates improved financial regulations. Proper regulations are indispensable to continued reforms and developments in the financial sector.
China's financial regulators will enhance their regulatory practices and uphold the requirement that financial players must have the relevant licenses to conduct their businesses in China.
In his speech, Yi also stressed the need to strengthen investor education and consumer protection.
China's financial authorities will improve the laws and regulations to enhance investor suitability management, popularize financial education, and better protect the personal information of consumers, among other measures.