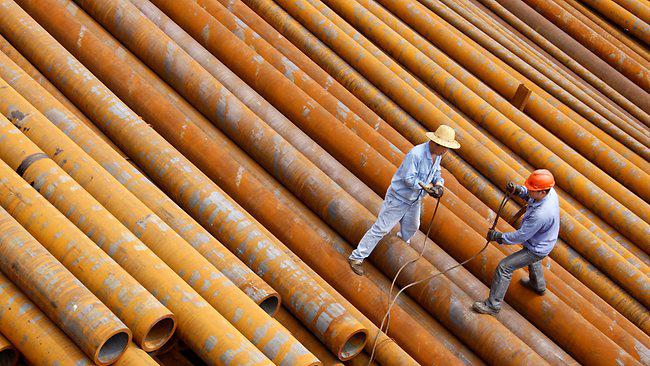 2017 is an important year for cutting steel production capacity and for de-leverage of iron & steel enterprises. The journalist with Economic Information Daily learnt that China's government aims to reduce overcapacity by about 50 million tons of steel, effectively dispose "zombie enterprises", eliminate outdated capacity and completely crack down obsolete steel products made of scrap steel. Meanwhile, average debt-to-assets ratio in the iron & steel industry should decrease to below 60 percent after 3 to 5 years of de-leverage.
Task: crucial year for cutting steel production capacity
Recently, the joint inter-ministerial conference led by the National Development and Reform Commission (NDRC) convened a meeting about work of reducing steel production capacity, pointing out that 2017 is very crucial for reduction of steel overcapacity. Tasks which must be finished include reducing about 50 million tons of overcapacity of steel, effectively disposing "zombie enterprises", eliminating outdated capacity and completely cracking down obsolete steel products made of scrap steel in the first half of this year.
It was put forward at the meeting to go deep into the fact, do investigation and study and actively formulate response plan and effective measures without avoiding the key points, difficulties and risks of the work. Related parties should implement relevant policy on cutting steel overcapacity and undertake pragmatic and efficient work in accordance with local situations so as to ensure that smooth progress will be made.
"If 2016 is called as the beginning of three years of cutting steel overcapacity, 2017 is a crucial year." Xia Nongzeng, an inspector from the NDCR, explicitly indicated that steel price moved up significantly against market trend in 2016, but it won't change the pace of cutting overcapacity. More efforts will be made in reducing steel overcapacity this year and the production capacity which will be lowered won't be less than that in 2016.
It is noteworthy that June 30 is the deadline for eliminating obsolete steel products made of scrap steel, which is a key step of the task of de-capacity. The so-called "steel products made of scrap steel" refers to the steel that are made of scrap steel melted by induction furnace but without effective control of its ingredient and quality and the steel products made of this kind of steel.
Xu Xiangchun, information director from www.mysteel.com, indicated that China is now fully devoted in eliminating the steel products made of scrap steel, and Liaoning, Hubei, Gansu and other places conducted inspection following Jiangsu, Hebei, Shandong and Sichuan.
In the opinion of Xu Xiangchun, although crackdown of the obsolete steel products is not included in the task of de-capacity, it can relieve the pressure of the task of de-capacity. "More than 100 million tons of obsolete steel products, which are sham products due to lack of quality guarantee, will be eliminated this year. Therefore, on the basis of cutting capacity by 50 million tons of steel, the crackdown of obsolete steel products can relieve the overcapacity pressure of the whole market and create favorable conditions for the industry's profits to recover to a rational level and mergers & reorganizations and transformation & upgrading."
Xu Lejiang, vice-minister of industry and information technology, said currently most of the smelting enterprises with intermediate frequency furnace are "workshops". Some places and enterprises are still confused about the definition of the "obsolete steel products made of scrap steel". They are still hesitating to eliminate intermediate frequency furnace as they think there is "short process innovation" and overall crackdown will hurt some enterprises accidentally. Some worry that the crackdown will influence the recycle of scrap steels. Thus, an important task at current stage is to annihilate their illusion.
Measures: advance de-leverage simultaneously
Liu Zhenjiang, secretary general of China Iron and Steel Industry Association (CISA), remarked that the supply-side structural reform in China's steel industry centering on the tasks of cutting overcapacity, destocking, deleveraging, lowering costs and improving weak links has been carried out. In view of the outstanding problems that industries and enterprises are confronted with and need to tackle, cutting overcapacity and de-leverage is the two major tough tasks at current stage.
It was learnt that China will regard cutting leverage ratio of enterprises in some key industries such as iron & steel, coal, nonferrous metal and real estate as priority among priorities under the premise of controlling the whole leverage ratio.
Li Xiaobo, president of Taiyuan Iron & Steel (Group) Co., Ltd., said that deleveraging is an important problem of the supply-side structural reform. The development of Chinese enterprises mainly depends on their own accumulation or liabilities over the past years, so leverage ratio is generally higher. Excessively higher leverage ratio is disadvantageous for enterprises to cope with the risk of economic downturn.
Leverage ratio of enterprises is mainly shown in debt-to-assets ratio. Leverage is indispensable in economic development. Enterprises make investment by financing, which will form debts, and this offers fund guarantee to operation of enterprises and is a behavior of normal operation of industrialization.
Liu said that reasonable debts are necessary, but too many debts will become burdens. Debts can directly influence currency conduction efficiency and sometimes endanger existence of enterprises and financial security. Since financial crisis broke out, debts size of iron & steel enterprises saw rapid growth and burdens of debts grew increasingly. Average liabilities ratio of the whole industry has been at high level for many years.
The "high leverage" brought heavy financial burdens to enterprises. It is learnt that the financial fees of the CISA member enterprises was 6.9 billion yuan 2011, but it hiked to 89.1 billion yuan in 2016. The financial fees for 1 tone steel exceeded 140 yuan, representing an increase of nearly 100 yuan compared with the amount before the financial crisis and accounting for 35 percent of the three categories of fees.
The average debt-to-assets ratio of steel enterprises exceeded 60 percent in 2008 and has been increasing year by year with an average of 69.6 percent from 2014 to 2016 and as high as 71.04 percent in 2015, indicated Liu. Previously, the debt-to-assets ratio of steel enterprises remained below 60 percent from 2001 to 2007 with an average of 54.85 percent. The highest level was only 57.59 percent in 2006 while the lowest was 48.92 percent in 2001.
Currently, 11 medium and large steel enterprises have a debt-to-assets ratio of over 90 percent in 2016 with an output accounting for 3.7 percent. 14 enterprises have a debt-to-assets ratio of 80 to 90 percent with an output accounting for 12.07 percent. The gas of debt-to-assets ratio among different enterprises is huge. The highest is over 90 percent and the lowest is only 14 percent. Most steel enterprises with a debt-to-assets ratio of less than 50 percent are small-size enterprises. Big enterprises generally have a high debt-to-assets ratio and are key enterprises to conduct "de-leveraging".
Focus on advancing mergers and reorganizations
It is reported that in terms of de-leveraging means, the State Council released the Opinions on Actively and Steadily Reducing the Leveraging Ratio of Enterprises in 2016, which proposes to take comprehensive measures, such as mergers, organizations, market-based and legal debt-for-equity swap and the development of equity financing, to actively and steadily reduce the leverage ratio of enterprises.
For cutting overcapacity, Xia believes that 2017 will be a crucial year for steel enterprises to cut overcapacities with the steel price hiking. Under such background, it will promote the consolidation of steel enterprises and focus on mergers and reorganizations.
The MIIT recently indicated that after the establishment of the China Baowu Steel Group Corporation through the reorganization of the former Baosteel Group Corporation and Wuhan Iron & Steel (Group) Corporation, the concentration of the domestic iron and steel industry has been improved, which reverses the declining concentration for years. The CR10 and CR4 were improved to 35.9 percent and 21.7 percent, representing a year-on-year increase of 1.7 percent and 3.1 percent, respectively.
The MIIT pointed out that the official combination of Baosteel and Wuhan Iron & Steel has a demonstration effect on the mergers and reorganizations in the iron and steel industry. The experiences of Baowu Steel Group in deep consolidation will help improving the policy environment for enterprises to conduct mergers and reorganizations. Substantial progress will be made in mergers and reorganizations with improving quality and brand and consolidating regional resources as key tasks. With the advancing of cutting over-capacities, the iron and steel capacities will be further concentrated to enterprises with advantages and the concentration of the industry will be improved.
As a matter of fact, insiders disclose that it will focus on the consolidation of regional resources. It will establish one to two internationally super-huge steel
Take Hebei Province as an example, the number of steel enterprises will be reduced from the current 109 to about 60 by 2020, indicated Song Jijun, vice dean of Hebei Metallurgical Industry Association, indicated. It will form a "2310" pattern for mergers and reorganization. It will establish two mega steel groups with HBIS Group and Shougang Group as leaders, three large steel groups with dominant power in regional markets with private steel enterprises as the main power and ten private steel enterprises with product advantages. It will focus on the development of steel materials for high-speed rails, vehicles, ships, construction, modules, high-speed instruments, electric engineering, high-end pipelines and other high-end metallurgical materials.
Translated by Vanessa Chen & Star Zhang