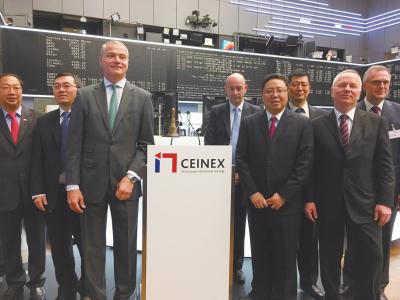 The China Europe International Exchange (CEINEX), released general terms and conditions for the CEINEX D-Share Market lately. This announcement aims to set out listing standards for Chinese companies that already have listing plans.
The CEINEX is a joint venture trading platform between Deutsche Borse, the Shanghai Stock Exchange, and the China Financial Futures Exchange (CFFEX). The D-shares refer to the stocks in Chinese companies to be traded on the CEINEX. According to the criteria of the CEINEX, companies should sign a listing agreement when they decide to go public, and the General D-shares listing terms are the main part of the contract.
According to the General D-shares listing terms, qualified Chinese companies should hold a strong profitability portfolio or a high market capitalization. The conditions also require companies' revenue arising from their principal activities to have reached more than 50 million euros over last three fiscal years, or their expected minimum capitalization amounts to 500 million euros after the listed company issue's their shares. At the same time, these qualified listed Chinese companies' aggregate net profits should have reached 50 million euros over the last three fiscal years.
Besides, the companies applying to go public should not have been subject to any published sanctions by a securities regulatory authority at its venue of listing for violations of securities laws and regulations over the past three years preceding their applications.
With the development of the CEINEX's D-shares market, the general terms and conditions for it might be revised in the future.
Chen Han, the CEO of the CEINEX claims that the announcement of these terms is a breakthrough for Chinese companies, which have already initiated listing plans, and the CEINEX will devote and intensify communications with them to ensure a stable D-share Market.