Xinhua Finance Agency (XFA) distributes the most reliable, timely and comprehensive economic and financial news, information and data in China and the rest of the world. The news is provided by specialists, journalists and analysts worldwide. The classified news aims to empower global investors, as well as financial institutions, to succeed in today's Chinese business world.
XFA News
XFA extracts political, economic and financial news from its unique selection of differentiated news resources. The quality and timeliness of the information is key for decision makers to have themost timely and comprehensive understanding of China and improve their efficiencies when it comes to the collection of reliable information. XFA News is structured using sixsections. Each of them focuses on either Policy, Economy, Industries, Markets, Companies or the World. The segregation of various areas helpsreaders to easily capture the main dynamics. Top News, Breaking News and Editor's Choice are additional topics which are crucial for getting better and faster understanding of the most up-to-date status of the financial world of China.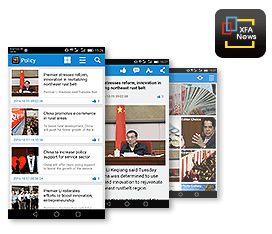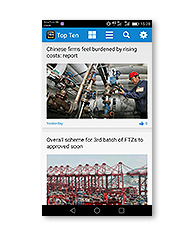 China A-Shares Market News
XFA provides a value-added information service toits premium customers by distributing market information on companies which are listed as A-shares in Shanghai and Shenzhen stock exchanges. XFA selects and analyzes valuable information which it collects from the numerous information sources. XFAhighlights changes and other significant eventsin the financial market in order to assistmarket traders with timely adjustment of their investment strategies.
XFA Market
There are 3 independent news products among XFA Market News offering:
Earlybird:
summarizes all the important news articles and market trends that could significantly influence the stock market, 10 hours before every trading day, to help investors catch up next day's hot spots; feeds include macroeconomic news, policy changes, and industrial development, as well as information pertaining to listed companies.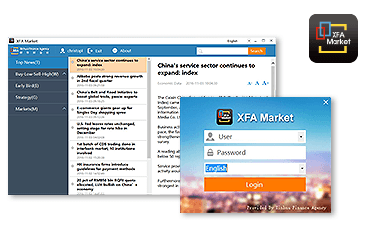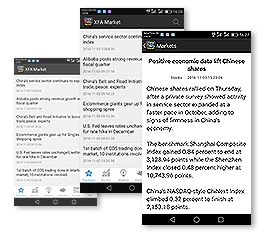 Strategy:
provides in-depth analysis of the market information, twice a week: it covers policy interpretation and estimation, review of macro and regional economies, and in-depth analyses of particular industries and companies. Most of the information is exclusive and specific on a stock or sector, and covers medium- to long-term targets.
Buy-low-Sell-high:
provides numerous real-time news feeds during every trading day and focuses on profit taking short- to medium-term trading strategies. It includes more recent important market-moving information and references for securities investors in order to help them adjusting their investment strategies to their advantage.
Market Data
Level-one data feed of China's A-share stock and bond quotesis beingoffered. Historical data of stock and bond markets, as well as listed company information, is part of the offering. This information provides a full picture of each of the individual listed company's fundamentals.
Analyst Reports
Key points and summaries of analysts' reports on the A-share market of top Chinese securities companies are being offered. Daily opinions, stock picks and personal financial advice are available via subscription by individuals as well as institutional clients.
XFA data
XFA provides insights to help companies plan for growth and create improved demand forecast through its big database.