Investors are piling into China's consumer sector amid speculation company earnings will be sheltered from the economic fallout of the trade war with the U.S.
A gauge of consumer staples has rallied 19% in the past three months, the only gainer among 10 industry groups on the CSI 300 Index, which has lost more than 2%. Technology shares have fared worst, losing almost 19%.
There's little doubt the economy is under pressure. Industrial output growth slowed to the weakest pace since 2002 in May and investment decelerated, data last week showed. Retail sales were a bright spot, expanding 8.6% compared with a year earlier. The expectation is that such resilience in consumer spending will last, but risks of a sell-off in staples is growing as the shares grow increasingly pricey.
"Investors are huddling together for warmth in consumer staples, expecting them to deliver growth unaffected by external changes," said Fu Gang, fund manager at River East Asset Management Advisory Ltd.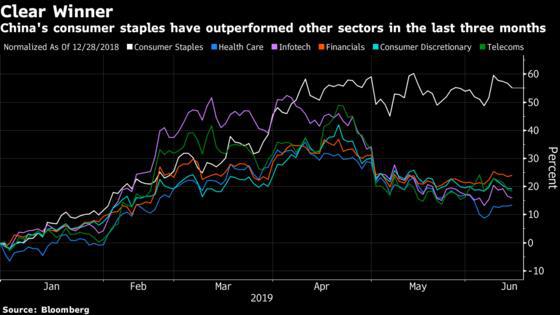 Liquor makers in particular are outperforming. Wuliangye Yibin Co. and Luzhou Laojiao Co. have jumped more than 30% in the past three months.
The companies are a sure bet for now, say Lin Qi, fund manager at Lingze Capital. "The Moutai drinkers are too rich to be affected, while the second-rate distillers will always benefit from the scarcity of Moutai."
Baijiu stocks have some way to go before they peak, according to Bright Smart Securities analyst Mark Huang, but the benefits of buying the shares are "quickly dissolving" as their valuations veer toward 30 times projected earnings. Wuliangye and Luzhou trade at more than 20 times 12-months estimated profits.
Source: Bloomberg