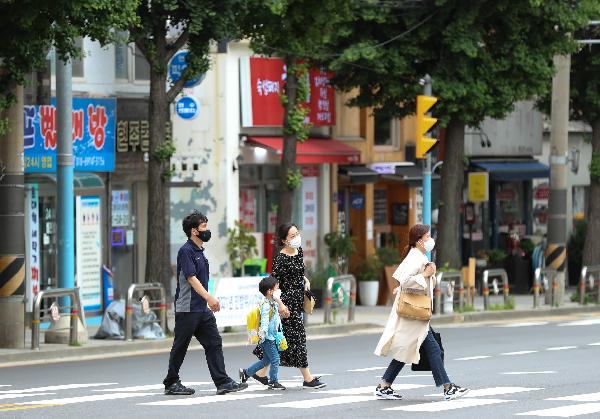 SEOUL, July 2 (Xinhua) -- South Korea's headline inflation stayed above 2 percent for three straight months in June as higher farm goods prices boosted supply-side inflationary pressure, statistical office data showed Friday.
The consumer price index (CPI) came in at 107.39 in June, up 2.4 percent for the same month of last year, according to Statistics Korea.
The consumer price inflation continued to advance this year from 0.6 percent in January to 1.1 percent in February and 1.5 percent in March each.
The headline inflation topped the Bank of Korea (BOK)'s mid-term inflation target of 2 percent for the third straight month, with 2.3 percent in April and 2.6 percent in May respectively.
During the April-June quarter, the consumer price spiked 2.5 percent compared to the same quarter of last year. It was the fastest in nine years since the second quarter of 2012.
Supply-side inflationary pressure mounted this year on the back of higher prices for farm goods and oil products.
Price for agricultural, livestock and fishery products surged 10.4 percent in June from a year ago, keeping a double-digit growth for six straight months.
Price for industrial products gained 2.7 percent in June, after increasing 2.3 percent in April and 3.1 percent in May each.
It was led by expensive diesel and gasoline, the price of which jumped 22.4 percent and 19.8 percent respectively.
Price for electricity, tap water and natural gas declined 4.8 percent in June on a yearly basis.
Public services prices slipped 0.6 percent amid the expanded welfare policy, but private services prices increased 2.5 percent on higher eating-out costs and a hike in insurance premiums.
Housing rent, including Jeonse and monthly rent, added 1.4 percent in June from a year earlier, marking the highest in about three and a half years since November 2017.
Jeonse is the country's unique contract between two households where a landlord grants the two-year residential right to a tenant who in turn lends a certain amount of money, or deposit, to the landlord.
The central bank indicated an interest rate hike later this year, after having left its key rate unchanged at an all-time low of 0.50 percent since May last year.
Some of the market watchers forecast that the BOK may raise its policy rate by 25 basis points as early as August in a bid to curb massive household debts and control a surge in housing prices.
Cost for food and non-alcoholic beverage advanced 6.5 percent in June from the same month of last year, and the reading for lodging and eatery services rose 2.2 percent.
The expense for communications and education shrank 2.3 percent and 0.7 percent each last month.
Core consumer price, which excludes volatile agricultural and oil products, moved up 1.5 percent in June, hovering above 1 percent for four months in a row. It was the highest in almost four years since September 2017.
The OECD-method core price, which excludes food and energy cost, was up 1.2 percent last month.
The fresh food index, which gauges price for fish, shellfish, fruit and vegetable, jumped 10.3 percent in June after advancing 13.0 percent in the previous month.
The livelihood items index, which measures price for daily necessities, increased 3.0 percent in June, after rising 3.3 percent in the prior month.