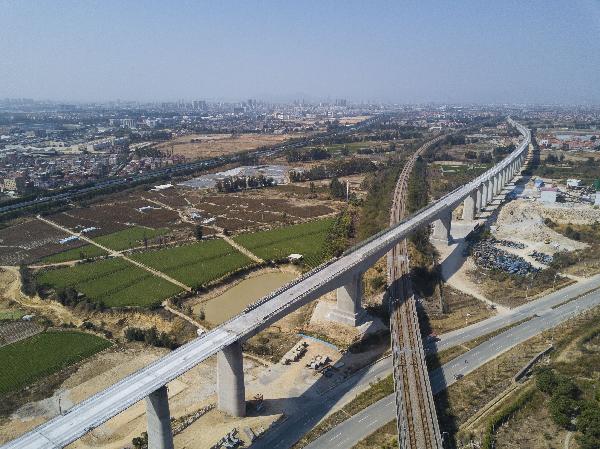 SHANGHAI, Feb. 8 (Xinhua) -- For many people, 2020 was a bumpy year full of ups and downs. For Tetsuho Kikuchi, a 57-year-old Japanese entrepreneur in China, the past year was nothing short of a roller-coaster ride.
Kikuchi, director-president of Suntory (China) Holding Co., Ltd., the China subsidiary of the Japanese conglomerate Suntory, told Xinhua in a recent interview that he experienced a drastic mood change in 2020, from near-desperation at the beginning of the year to amazement at China's fast economic recovery as it contained the COVID-19 epidemic across the country.
Kikuchi recalled that when he traveled from Japan to the Chinese metropolis of Shanghai in early February last year, he saw the city hit hard by the raging COVID-19 epidemic, with empty streets and closed stores.
The grim situation at that time made him feel almost desperate, he said.
However, things started to turn around for Kikuchi and his company as China and its people took efficient and effective epidemic prevention and control measures.
Thanks to these efforts, Suntory China was able to resume its operations quickly, with none of its thousands of employees infected with COVID-19, he said, adding that the company has benefited from China's rebounding economy since the epidemic was generally contained across the country.
Suntory's sales in the Chinese market last year were basically maintained at the level of 2019, which contrasts with its shrinking global sales in 2020, he said. Some of its household products even achieved an annual sales growth of 20 to 30 percent in China.
He said that his company further tapped into China's booming online-shopping sector last year. "We tried livestreaming e-commerce for a number of our new products and achieved good results," he said. "We're planning to apply our e-commerce model in China to other markets this year."
Kikuchi revealed that, based on the Chinese market's stellar performance last year, Suntory has decided to expand its business in China from the country's eastern part to the whole country, and has set the target of increasing its sales in China from 3 billion yuan (about 464 million U.S. dollars) to 20 billion yuan in the next 10 years.
Having lived and worked in China for over a decade, Kikuchi said he has witnessed the country's ever-strengthening opening-up drive, with an improved business environment, streamlined registration procedures, and a shorter negative list for foreign investment.
He is confident about Suntory's future prospects in China. "China has been Suntory's most important market, and we hope to keep pace with the country's fast-growing economy," he said.