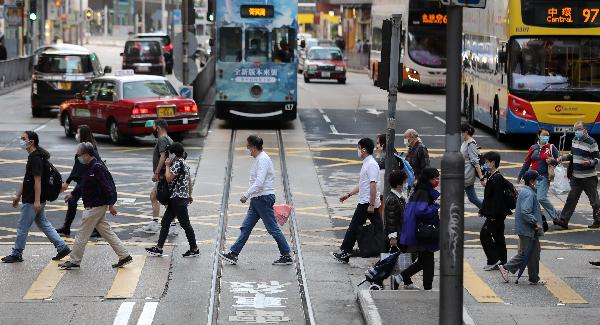 HONG KONG, Feb. 3 (Xinhua) -- Hong Kong economy's contraction sees pacing down at the start of 2021, amid the rising of the latest benchmark index, according to London-based consulting firm IHS Markit on Wednesday.
Hong Kong's Purchasing Manager's Index (PMI) climbed to 47.8 in January from 43.5 in December, signaling a moderation in the rate of deterioration after the heavy hit from the reintroduction of COVID-19 related restrictions. However, it remained firmly below 50 and therefore in contraction territory in January, according to IHS Markit's survey.
Although Hong Kong's economic downturn eased compared to the steep decline seen in December, business confidence was knocked further due to intensified worries about the COVID-19 pandemic, the survey said.
Chris Williamson, Chief Business Economist at IHS Markit, said, "Hong Kong saw a difficult start to the year, with business activity slumping once again as companies struggled against the ongoing headwind of COVID19, both at home and abroad. Domestic demand and export sales sank sharply lower, supply delays rose at an unprecedented rate, and worries about further waves of the virus knocked firms' confidence in the near-term outlook."
Encouragingly, however, business expectations remained far higher than seen throughout much of last year as firms focus on the prospect of life returning to normal with the roll-out of vaccines. A further contraction of the economy looked inevitable in the first quarter, but the longer-term picture has brightened, Williamson said.