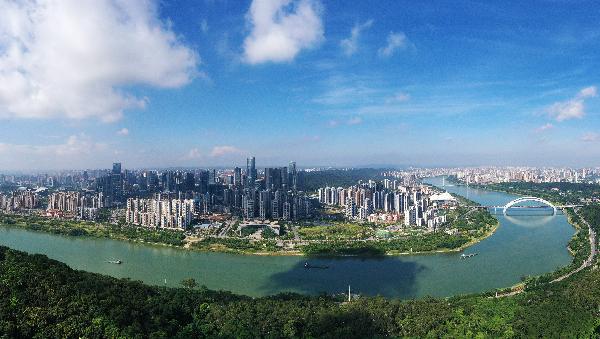 NANNING, July 26 (Xinhua) -- South China's Guangxi Zhuang Autonomous Region saw its foreign trade volume reach 290.2 billion yuan (about 44.9 billion U.S. dollars) in the first half (H1) of 2021, up 33.9 percent year on year, according to local customs.
The region's exports increased 27.5 percent year on year to 150.31 billion yuan while imports gained 41.6 percent to 139.89 billion yuan during the period, according to Deng Guangwen, deputy director of customs authorities of Nanning, the regional capital.
In June, the region's foreign trade was 48.15 billion yuan, up 15.1 percent year on year, maintaining a positive year-on-year growth for 10 consecutive months.
During the January-June period, foreign trade of Guangxi's private enterprises reached 183.66 billion yuan, up 29.9 percent, accounting for 63.3 percent of the region's total trade volume.
Foreign-funded companies and state-owned enterprises also reported strong trade growth during the period, with year-on-year increases of 17.4 percent and 52.2 percent, respectively.
The region's trade with countries along the Belt and Road saw a year-on-year increase of 34.1 percent to reach 155.48 billion yuan in H1, while trade with the Association of Southeast Asian Nations and the United States grew by 36.4 percent and 105.2 percent year on year respectively.