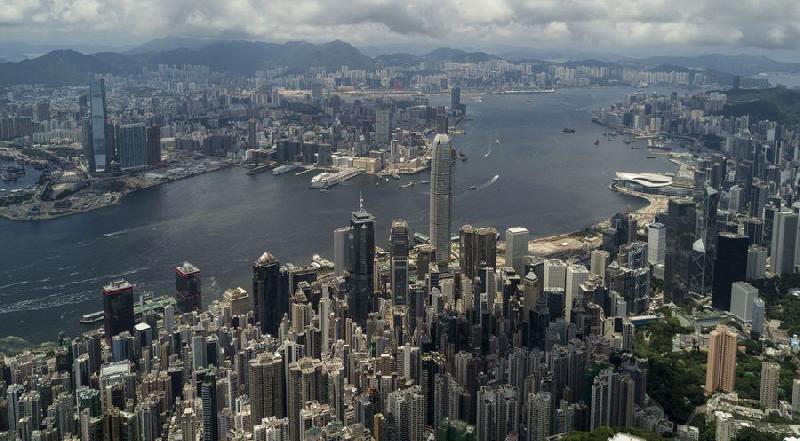 This photo shows the landmark Victoria Harbour of Hong Kong, China. (Xinhua)
Hong Kong sees the first growth drop in about 10 years and its economy is at risk amid the prolonged unrest.
With each passing day, the Hong Kong economy is one step closer to falling into an abyss.
Hong Kong's gross domestic product (GDP) slumped 2.9 percent year on year in the third quarter, sharply down from the slight growth during the April-June period, marking the first drop in about 10 years. Hong Kong officials have admitted that the economy slipped into a technical recession and is bracing for the first annual decline since 2009.
The figures may seem inconsequential, but the impact on the people is certainly not.
Numerous men and women of flesh and blood, who make a living by receiving visitors, driving taxis or doing other worthy endeavors have had their lives crushed. They have had no income for months, despite having families to support with mouths to feed. But, it would seem, there is nothing they can do.
With businesses struggling to keep afloat, jobs have been lost at an unprecedented pace. Economists warned that an upsurge in the number of unemployed, which has already started to rise, could be the first sign of a total collapse in the economy.
The cause is crystal clear.
Prolonged mayhem stirred up by rampant rioters is jeopardizing Hong Kong, eroding its foundation of success, and putting everyone's life in peril.
It is ridiculous that going to work could be a problem in one of the world's most important financial hubs, that personal safety cannot be guaranteed in a place known for the rule of law, that common residents dare not voice their opinions in one of the world's freest business environments.
If the violence continues, there will be not only untold casualties and property losses but irreparable harm to the economy and everyday people's livelihoods.
Unfortunately, this is exactly what is happening here. Step by step, the violence has escalated from blocking roads and shouting out obscenities to occupying universities, detonating homemade bombs, setting a man ablaze, and even manslaughter.
Truth be told, the mobsters taking on the streets and secret forces behind them will never stop until Hong Kong, cherished by more than 7 million people, is completely ruined.
Confidence and patience are fading.
Although no one has spoken out openly, business investors have mulled relocating their capital, and international talent have started to reconsider plans to build their careers here. Some observers, due to the ongoing turmoil, have even begun to question whether Hong Kong is irreplaceable or not.
It is undoubted that Hong Kong still boasts enormous, unique advantages thanks to the support from the Chinese mainland, the world's second largest economy. But success will not last forever, and without a peaceful environment, Hong Kong's prosperity could be severely devastated.
People should be aware that what is happening in Hong Kong is not the so-called "fight for democracy and freedom" but the illegitimate formation of a "rogue democracy" that decrees the "freedom to harm others" forcibly created by a handful of rioters.
Hong Kong people have to make a choice, to stand up or stay silent, and in doing so will ultimately determine their own fate and that of Hong Kong.
The decision to not let the rioters destroy Hong Kong lies in everyone's hands.