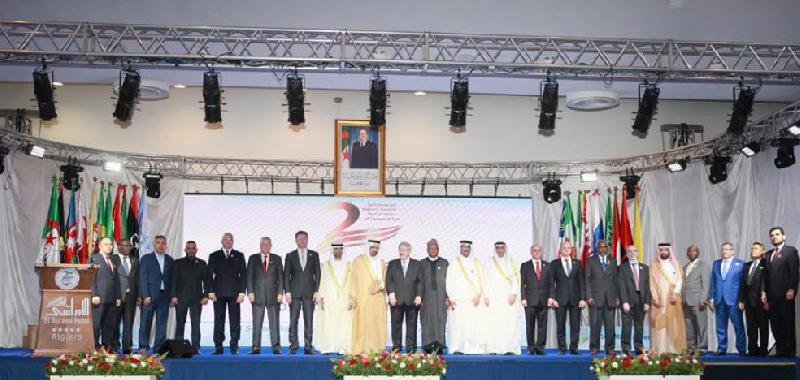 The 10th OPEC and non-OPEC Joint Ministerial Monitoring Committee (JMMC) in Algiers wrapped up on Sunday by maintaining the current oil output level, amid calls from the U.S. to raise oil production in a bid to curb mounting prices.
In fact, OPEC and non-OPEC members in Algiers snubbed the calls of the U.S. President Donald Trump. A couple of days ago, Trump accused OPEC of monopolizing the oil market, and called the cartel to raise production in a bid to reduce prices.
"The sanctions and the trade wars imposed by some powers will have an impact on the global economy and therefore on the oil market," Russian Energy Minister, Alexander Novak, noted in his remarks at the opening of the meeting.
The Russian minister was referring to the sanctions that the United States imposed on Iran, a key oil producer, while "the trade wars" were referring to the ongoing trade conflict between the United States and China.
In a clear response to Trump, OPEC President, Suhail Mohamed Al Mazroui, said that "OPEC is not a political organization and does not succumb to political pressures."
Suhail, who is also Emirati Energy Minister, added that "OPEC 's top mission is not to push towards raising or lowering oil prices, but to achieve a balanced market."
"We have to be wise; we should continue to anticipate supply and demand to avoid previous mistakes that affected the oil market balance," he stressed.
Suhail further invited other oil producer countries "to join the OPEC-non-OPEC agreement and help safeguard and sustain the global oil market balance."
Saudi Arabia's Energy Minister Khalid al-Falih supported his Emirati counterpart.
"There is no agreement to raise production, and oil prices at 80 U.S. dollars per barrel would be better off for both producers and consumers," Falih told reporters.
The JMMC, co-chaired by Saudi Arabia and Russia, comprises four OPEC member countries, namely Algeria, Saudi Arabia, Kuwait and Venezuela, and two non-OPEC member countries, Russia and Oman.
It aims to ensure the achievement of the objectives of the Declaration of Algiers on reducing oil outputs by 1.8 million barrels a day to adjust production in the range of 32.5 to 33 million barrels per day to boost plunging prices.
Algiers meeting is expected to extend the 2016 agreement, which was reached in Algiers to cut oil output and will expire at the end of 2018, to an additional period to maintain prices at the current level.