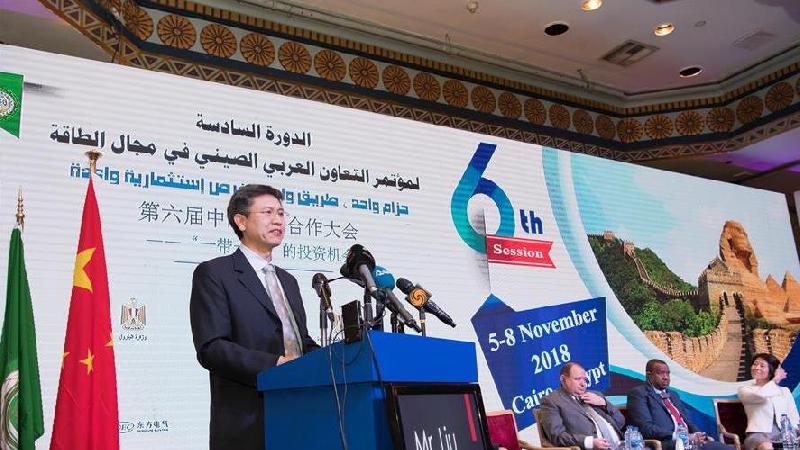 Arab and Chinese officials and businessmen have met in the Egyptian capital Cairo to discuss future cooperation in the field of energy, particularly renewable energy.
During the sixth session of the Arab-China Cooperation Conference on Energy from Nov. 5 to 8, the two sides highlighted the significance of the ongoing energy projects carried out by Chinese corporations in Arab states, as well as opportunities for further Arab-China collaboration.
The fields of sustainable, renewable and clean energy were highlighted as a key area of energy cooperation between the two sides.
"Energy has become a matter of national security for every state all over the world, including China, Egypt and all Arab countries," said Mohamed Mousa, head of the Arab delegation in the forum, and the first undersecretary for research, planning and international cooperation at Egypt's Ministry of Electricity and Renewable Energy.
"Arab states can cooperate with China in this field and there are large opportunities in Arab states to establish renewable energy plants and manufacture their equipment," Mousa told Xinhua on the sidelines of the conference.
Liu Baohua, deputy administrator of China's National Energy Administration (NEA) who led the Chinese delegation, said that the pragmatic cooperation between China and the Arab world in the fields of oil and gas, electricity, nuclear power and renewable energy continues to deepen, describing it as "solid and fruitful."
"Energy cooperation has become the focus of China-Arab economic and trade cooperation," Liu said during the conference.
JOINT MEGA PROJECTS
Chinese giant energy corporations, including State Grid Corporation of China, Sinohydro, Dongfang Electric, Shanghai Electric, have been carrying out mega projects in Arab states including Egypt, the United Arab Emirates (UAE), Morocco and Jordan over the past few years.
The projects include the construction of solar energy complexes and coal-fired power plants as well as upgrade of major grids and extension of power transmission lines.
In Egypt, Dongfang Electric and Shanghai Electric corporations are currently working on building a coal-fired power plant in Hamrawein region at the Red Sea coast with a total generating capacity of 6,000 megawatts.
"We're also working with China's Sinohydro on the construction of a major pumped-storage hydropower plant in Ataqah Mountain in Suez province northeastern Egypt with a capacity of 2,400 megawatts, besides our cooperation with State Grid Corporation of China and Huawei," Mousa said.
He added that Chinese experts also train Egyptian engineers every year in China to familiarize them with all new technologies in the field of energy.
Sinohydro has also been working on the establishment of a huge solar energy complex in Morocco's southeastern province of Ouarzazate that is expected upon completion by 2020 to provide clean energy for more than 1 million Moroccan homes, with even surplus electricity to export to Europe.
Moroccan officials say Noor solar complex will be the largest multi-technological solar production site in the world with a capacity of 580 megawatts, considering it a major step in the country's plan to generate 42 percent of its electricity consumption from renewable energy by 2020 and 52 percent by 2030.
Meanwhile in the UAE, China's Harbin Electric International works with Saudi Arabia's ACWA Power on a joint venture to build the Hassyan clean coal plant in Dubai that comprises four units to generate 600 megawatts each after completion, using ultra-supercritical technology.
FUTURE EXPECTATIONS
Although the current energy source of Arab countries is still dominated by oil and gas, which are relatively cheaper, the Arab countries are undergoing transformation to sustainable and renewable energy.
China, the second largest trade partner with the Arab world, has advanced technologies and expertise to help energy transformation in the Arab region through win-win partnership.
"China has accelerated energy restructure and built a clean, low-carbon, safe and efficient energy system, while Arab countries actively seek energy transformation and changing the situation of relying on fossil energy," said Liu.
He stressed that China and Arab states share a common vision on energy development that will take their cooperation in the field to a new height.
"In order to promote cooperation in the field of clean energy, the NEA of China and the Arab League (AL) decided to establish a China-Arab clean energy training center," said the Chinese official.
Yang Kai, head of the Egyptian branch of the Hanergy Thin Film Power Group Limited, revealed his company's plan to invest in Egypt to build a high-end 300-megawatt photovoltaic industrial park project with an investment of more than 450 million U.S. dollars, which will provide jobs for 3,000 people.
"The project has already got a partner in Egypt and we have begun its feasibility study," the Chinese businessman told Xinhua.
"Egypt with its 100-million population is a promising market for Chinese corporations and China is a promising source of energy technology transfer and training for Egypt and Arab states," said Mousa.
Economist Mahmoud Fath-Allah from the AL economic affairs sector highlighted the significance of such Chinese training programs for the Arab world.
"One of the most important aspects of energy cooperation with China is the training part due to China's expertise in this regard, which will make a difference in the future of renewable energy in the Arab region," he added.