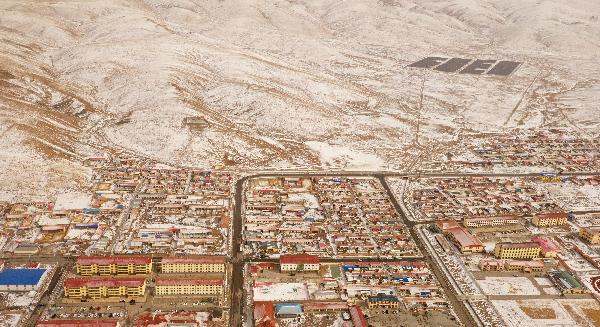 by Xinhua writers Ma Yujie, Li Jinfeng and Luo Xiaofei
XINING, July 26 (Xinhua) -- After one year of operation, China's first ultra high-voltage (UHV) power superhighway for transmitting clean energy delivered 13.1 billion kWh of power from the Qinghai-Tibet Plateau, abundant in energy resources, to densely populated Henan in central China, according to State Grid's Qinghai branch.
As the world's first all-clean energy UHV power transmission project, the 800-kilovolt direct current transmission line became operational on July 15, 2020. It extends 1,563 km across four provinces.
It is a pilot project aiding China's pursuit of attaining carbon dioxide emissions peak before 2030 and achieving carbon neutrality before 2060.
POWER OUTPUT GALORE
Construction of the project began in November 2018 and was completed in May 2020.
"It took only two years for the project to be completed, which refreshed the construction speed of similar projects," said Zeng Shengwei, who leads a construction crew of the project.
Compared with other power transmission systems, the UHV transmission has a larger capacity, bigger range, lower losses and uses fewer land resources.
Northwest China's Qinghai Province boasts rich clean energy resources. It has a vast expanse of land that can be used for setting up photovoltaic power generation facilities and wind farms, with the amount of exploitable solar energy exceeding 3.5 billion kW, accounting for 11 percent of the national total.
The line linking Qinghai and Henan is expected to start running at full capacity by 2023, offering 41.2 billion kWh of green power annually. The output is equivalent to one-third of the power generation of the Three Gorges Dam and accounts for about one-eighth of the current annual electricity consumption in Henan -- which has dense industrial clusters and is in huge demand for energy.
Henan Huarong Food Co., Ltd., which produces jam, dehydrated vegetables and beverages, is a big user of electricity in Shangcai County located in the city of Zhumadian, Henan.
Yue Chunchang, head of the company, said that in the past, due to power shortage, the company would receive a notice of power outage for at least one or two days when power consumption peaks in winter and summer. "We would lose nearly 300,000 yuan (about 46,380 U.S. dollars) if our production lines stop running for a day," Yue said.
But since the UHV line started operating, Yue said, the company never had to suspend production. "Now we purely use clean energy from the Qinghai-Tibet Plateau, which can also reduce coal consumption."
TECHNOLOGICAL BREAKTHROUGHS
Stretching from the Hainan Tibetan Autonomous Prefecture in Qinghai all the way to the city of Zhumadian in Henan, the Qinghai-Henan UHV project overturned many technological bottlenecks that had plagued long-distance transmission of clean energy.
Fang Baomin, director of the power distribution center under State Grid's Qinghai branch, said that solar and wind power usually only accounts for about 30 percent of the total energy transmitted by the power grid, but the Qinghai-Henan UHV line mainly transports clean energy, posing an unprecedented challenge to the safe operation of the power grid.
"Once the transmission is interrupted, the photovoltaic generators will automatically go offline, causing power failure in a large area," said Lu Guoqiang, with the State Grid's Qinghai branch.
After a long period of brainstorming by top experts in China's power sector, a tailored solution was found and the power line and the system were ready in less than eight months.
"The Qinghai-Henan UHV line made a breakthrough in long-distance clean power transmission, and one second of transmission is enough for an ordinary family to use for two years," said Li Binshan, head of the Qingnan converter station at the origin of the line.
The UHV line also adopts advanced technologies to store energy for better use of power. An energy storage power station in the Gobi Desert was plugged into Qinghai's power grid in 2019. It can store power at the peak generating period and discharge power when the power load soars.
More such stations are in the pipeline, which are expected to further stabilize power transmission through the line.
GREEN ENERGY, GREEN DEVELOPMENT
The stable operation of the Qinghai-Henan UHV line also helps generate wealth for the locals.
Every morning, herder Xiang Zhankui takes more than 2,000 sheep to the green industrial development park in the Hainan Tibetan Autonomous Prefecture for grazing.
"In the past, the barren land did not have grass at all. Now, vegetation thrives under the photovoltaic panels and the sheep are well fed and strong," said Xiang, who was hired two years ago as a shepherd in the park on a monthly salary of 3,000 yuan.
"We have higher income now and the environment is also improving," he said.
The green industrial development park in the Hainan Tibetan Autonomous Prefecture created nearly 3,000 jobs for local residents, and Qinghai now has the highest proportion of new energy installed capacity in China.
"The construction of the park has provided stable new energy and harvested unexpected fruits of ecological restoration and sustainable development for the husbandry industry," said An Fengjun, deputy director of the management committee of Hainan green industrial development park.
The clean and renewable energy delivered every year through the line is equivalent to replacing 18 million tonnes of raw coal, reducing 29.6 million tonnes of carbon dioxide that is equivalent to adding more than 80,000 hectares of forest.
(Xinhua reporters Xie Tongqiang and Geng Huihuang also contributed to the story)