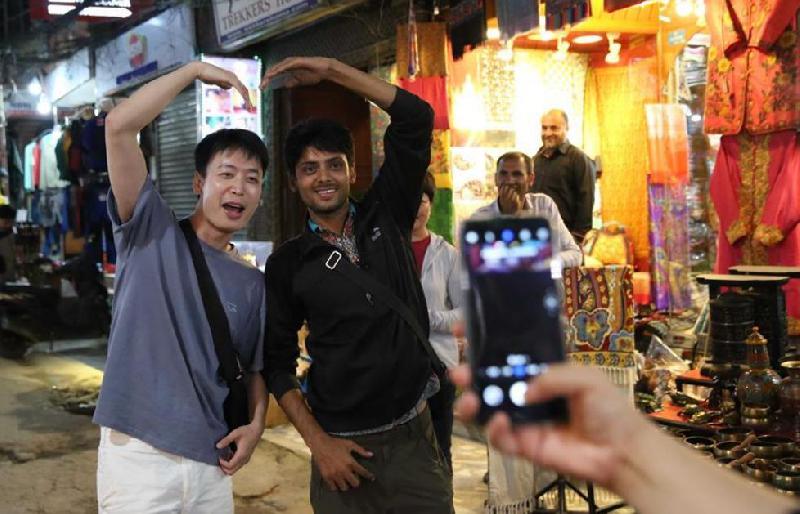 by Liu Tian, Zhou Shengping, Jiang Chao
KATHMANDU, Oct. 12 (Xinhua) -- Anyone hearing Amit Baniya's Mandarin would think the 23-year-old young man is Chinese. He knows almost all the buzzwords on the Chinese social media and is also an expert in using trending words and phrases to attract TikTok fans.
Baniya shares the same Mandarin name with renowned Kung Fu master Bruce Lee, Li Xiaolong, which has helped him become even more popular on China's leading video app TikTok. While Baniya is not a Kung Fu master like Bruce Lee, his skills as a tour guide and a TikTok star give him a chance to beat Bruce Lee on modern social media.
"I started learning Chinese when I was around 14. It was as if it had been predestined. I accompanied my friend to a language school where he was learning Chinese. I enjoyed the environment and learning the language, so I stuck with it," Baniya told Xinhua in Thamel, a haven for foreign visitors in Kathmandu.
Baniya's first job was giving tourists henna tattoos. "I'm good at it," said Baniya in fluent Chinese. "But I didn't have enough business every day. I thought that if I could speak more foreign languages, it would help me gain more clients, and I could also be a tour guide for them."
In a clip on TikTok, Baniya called out to a Chinese visitor in Mandarin. "Hi, big brother. What can I do for you? I can do everything, interpreter, tour guide and even body guard. Brother, you need to give me a chance. I'm a local."
"How could you speak Chinese?" asked the visitor, who immediately recognized him as TikTok's "Nepali Li Xiaolong."
"Why shouldn't I?" Baniya said.
"Even a body guard?" the visitor said, being shocked.
"If it can make some money from it, why not?" the young Nepali replied.
Baniya comes from a poor family. He has a younger brother and two younger sisters. "I have to earn money to help my family. I need to depend on myself," he said.
He also has aspirations to continue his education. "I need money to pay my tuition. I'm planning to major in tourism in college. I want to follow my heart and meet visitors from different countries. It makes me happy."
Baniya stumbled on TikTok, never thinking he would become a celebrity on this social media platform.
Now, he is easily recognized by Chinese tourists at popular sites across Nepal. Yet, he still stays true to his original self. "I still eat rice. Being a celebrity doesn't mean I now eat gold. I have not changed," he said.
Though being popular in China, he has never visited the country. But he believes that this neighboring country must be one of the most convenient places to live in.
"If you want to send a parcel, there are countless courier services. If you want to transfer some money, all you need is a cellphone. It is great; not many countries are as convenient as China," he said.
The rising star also hopes that China and Nepal will build an even closer relationship. "Nepal and China should have more interactions as we are neighbors. There should be no obstacles of language or distance between us," he said.
"I want to visit every corner of China, and I also want all Chinese to visit our beautiful and safe country," he said, adding that he believes more Chinese visitors would open up further opportunities for the locals.
"I'm here in Nepal waiting for and welcoming my Chinese friends," Baniya said in his perfect Mandarin.