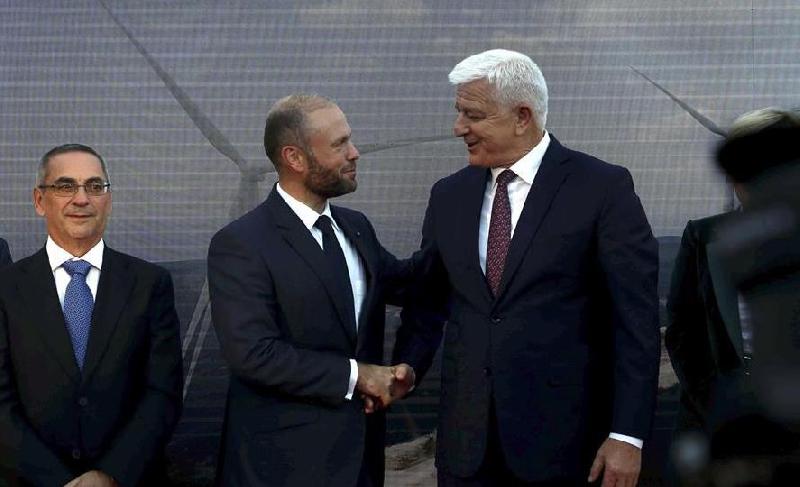 BAR/ULCINJ, Montenegro, Nov. 18 (Xinhua) -- The Mozura Wind Park in southern Montenegro, a joint project within the framework of the China-proposed Belt and Road Initiative (BRI), was inaugurated Monday.
The wind farm, constructed by a consortium of the Shanghai Electric Power Company (SEP) and Malta state energy provider Enemalta, is set to stabilize local power supply and help the country better harness its rich renewable energy resources.
Guests attending the inauguration ceremony at the Mt. Mozura included Montenegrin Prime Minister Dusko Markovic and his Maltese counterpart Joseph Muscat.
Joe Mizzi, Malta's Minister for Energy and Water Management, said in his keynote speech that the partnership with the SEP has enabled Enemalta to invest abroad.
"It was not easy to set up the cooperation between one of the smallest members of the European Union and one of the largest economies of the world... but finally the project offered a unique opportunity to participate in the development of Eastern Europe's energy sector," he said.
Dragica Sekulic, Montenegro's Minister of Economy, said that the SEP and Enemalta will run the wind park for the next 20 years, after which it will pass into the hands of Montenegrin people.
She said that the project shows that the further green-energy based development is achievable, and highlighted that the wind park adds additional optimism that the country's domestic energy production will continue to meet the demand, along with decreasing carbon emissions.
Sekulic estimated that this Chinese-Maltese partnership also showcases a new level of relationship between China and the European Union.
Construction of the wind farm started in November 2017. All the 23 turbines were transported at the site and installed by the SEP before August last year, while the testing period lasted for around one year.
Chairman of the SEP Wang Yundan announced that the wind farm will provide more than 112 million kilowatt-hours of clean electricity annually for the Montenegrin people, while reducing greenhouse gas emissions by 95,000 tons.
"The project has received lots of attention, because it is the result of the implementation of measures within the Belt and Road Initiative," Wang said.