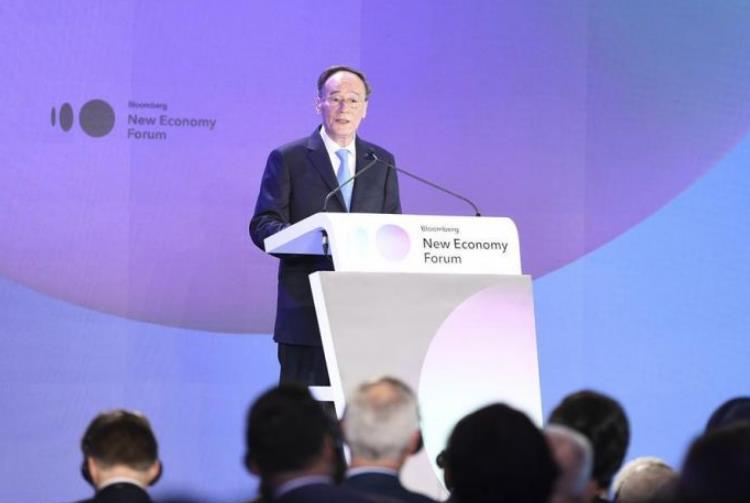 Chinese Vice President Wang Qishan advocated reform, innovation and common development at the New Economy Forum, which gathered about 400 prominent political and business leaders here on Tuesday.
In his speech at the opening ceremony of the forum, Wang said that global politics and economy are now undergoing the most profound changes after the end of the Cold War. The world now faces such challenges as maintaining a stable development of the world economy, demographic changes, climate change, development imbalance, lag in global governance mechanisms, and rise of the thought of populism and unilateralism.
"Opportunities arise in the challenges," said Wang, stressing that the key to cope with the challenges should be following the trend, grasping the general direction, and maintaining concentration.
"We should persist in advancing human peace and development, respecting the development paths that were chosen by peoples based on their independent choices, resolving various differences through consultation," said Wang.
He said that China will make its own efforts to let development progress truly benefit its people, through reform and opening up, deepening innovation and changing development modes.
Wang also called on people to understand China's history, saying that the Chinese civilization, which witnessed pains and glory, determined that China can only take a development path with its own characteristics.
Wang emphasized that China is still a large developing country, and it will persist in managing its own affairs and carrying out the new development concept.
China will continue to adhere to the basic national policy of opening up, said Wang, adding that China will promote the construction of the Belt and Road Initiative, firmly support the multilateral trading system, and oppose unilateralism and trade protectionism.
China is willing to work with all countries to push ahead economic globalization to move in a more open, inclusive, balanced and win-win direction, and jointly build a community with shared future for mankind.
Wang said that China-U.S. cooperation leads to win-win results while conflict ends up with a loss for both sides and will directly affect world development and stability.
He said that economy and trade cooperation is still a ballast stone and propeller for the healthy and stable China-U.S. relations. And the essence of the cooperation should be mutual benefit and win-win.
Wang said that China is willing to conduct consultations with the U.S. side on issues of common concern, and promote bilateral economy and trade issues to reach a mutually acceptable plan.
On the sidelines of the forum, Wang also met with the founder of the forum Michael Bloomberg, honorary chair of the forum's advisory board Henry Kissinger, and chair of the forum's advisory board Hank Paulson.
The two-day forum was scheduled to cover key topics including "remaking global trade," "managing the supply chain threat," "the future of global manufacturing," "energy challenges in the new economies," "managing the next financial shock," "financing the new economy," "supercities in the 21st Century" and "the geopolitics of markets."