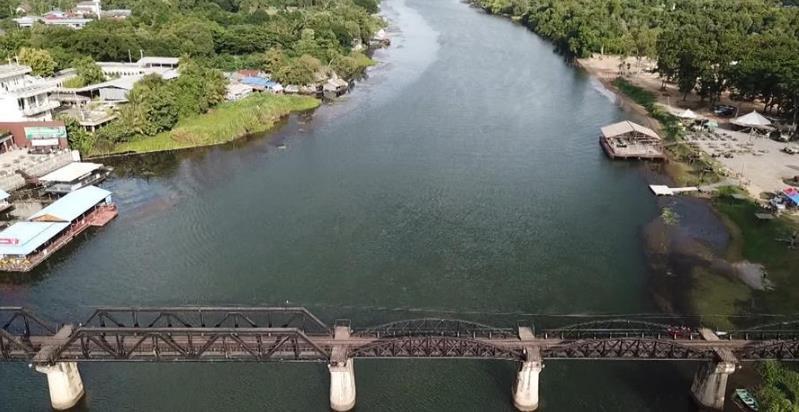 by Guo Xinhui, Wang Jin
KANCHANABURI, Thailand, Sept. 1 (Xinhua) -- About 120 km from Bangkok in western Thailand, Kanchanaburi Province holds a more sombre message than most Thai tourist destinations.
Bordering Myanmar, Kanchanaburi is steeped in the gruelling history of the "Death Railway", and is home to a dark steel bridge popularized by the 1957 Oscar-winning movie "The Bridge on the River Kwai."
During World War II, the Japanese forced more than 60,000 allied prisoners of war and nearly 300,000 Southeast Asian labourers to build a 415km railway across the mountains and jungles between Thailand and Myanmar (then Burma).
Tens of thousands died during the construction and it became known as the "Death Railway".
The bridge over the River Kwai was the most notable part of the entire railway line.
More than 10,000 prisoners of war, who died on the Thai-Burma railway, are laid to rest in three war cemeteries with two in Kanchanaburi and another one in Myanmar.
Over the years, many prisoners of war or their descendants, mainly from Australia, the Netherlands, and the UK, came here to pay tribute to the war dead.
Among those visitors was Australian man Terry Manttan, who chose to stay.
"My father was involved in the 'Death railway' project as a prisoner of war," Manttan said. "When I got older, I became curious and came to look and just wanted to find out what was involved."
Rod Beattie, also from Australia, came to Kanchanaburi with no connection to the war history for a totally unrelated reason. "He got curious about the railway and the wartime experience in this area. And he was a civil engineer and was interested in how to build a railway through the jungles of Thailand and Burma," Manttan explained. "The interest then led him to want to know more."
In 2003, Beattie established the Death Railway Museum and Thailand-Burma Railway Center beside the Kanchanaburi War Cemetery, where around 7,000 prisoners of war were buried.
Manttan came to Kanchanaburi two years after the museum opened. He has been staying here for 15 years and now is the manager of the museum.
According to the manager, there are on average 75,000 visitors per year to the Death Railway Museum, including many former prisoners of war and their families.
"Prisoners of war mainly consist of those who have come back again and again, and those who never want to come back," Manttan told Xinhua.
The former prisoners of war are very few now, he said, so the museum has become a way of telling the story to future generations.
"We hope people never forget, future generations never forget what happened here," Manttan said. "These men didn't die for no reason and that their families are not alone. They participated on behalf of their countries. They did what they believed to be admirable at the time, and this is important to remember."
The 76-year-old manager said, "The museum is about human beings. It's about a historical subject. It's about statistics. It's about warfare, but mostly it's about human beings."
The "Death Railway" line was closed in 1947, but a shorter stretch was reopened 10 years later in 1957.
The Bridge on the River Kwai escaped planned bombing, and remains in place in Kanchanaburi as a tourist attraction and a functioning railway bridge over which trains pass daily.