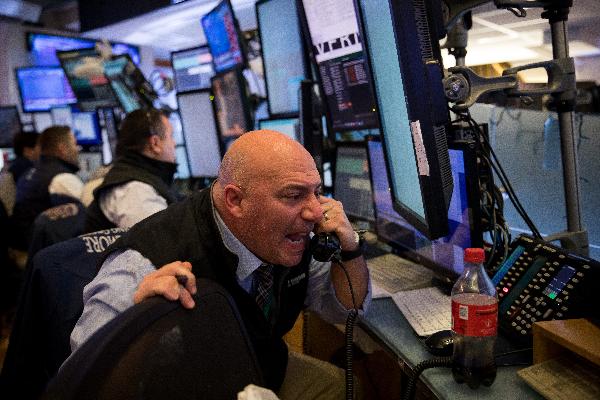 NEW YORK, Feb. 18 (Xinhua) -- U.S. stocks dropped on Thursday after data showed the number of Americans filed for unemployment benefits remained elevated.
The Dow Jones Industrial Average fell 119.68 points, or 0.38 percent, to 31,493.34. The S&P 500 decreased 17.36 points, or 0.44 percent, to 3,913.97. The Nasdaq Composite Index was down 100.14 points, or 0.72 percent, to 13,865.36.
Nine of the 11 primary S&P 500 sectors ended in red, with energy down 2.27 percent, leading the laggards. Utilities and consumer discretionary eked out modest gains.
U.S.-listed Chinese companies traded mostly lower with nine of the top 10 stocks by weight in the S&P U.S. Listed China 50 index ending the day on a downbeat note.
U.S. initial jobless claims, a rough way to measure layoffs, climbed to 861,000 in the week ending Feb. 13, following an upwardly revised 848,000 in the prior week, the Department of Labor reported on Thursday. Economists surveyed by Dow Jones and The Wall Street Journal had forecast new claims would fall to a seasonally adjusted 770,000 for last week.
The worse-than-expected figures indicated that the U.S. labor market is still suffering nearly a year after the onset of the COVID-19 pandemic.