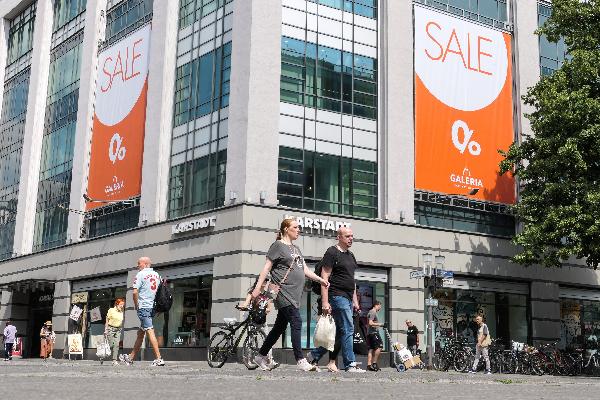 BRUSSELS, Aug. 31 (Xinhua) -- The annual inflation rate of the euro area is to reach three percent in August, the highest in 10 years, according to the flash estimate published on Tuesday by Eurostat, the statistical agency of the European Union (EU).
The inflation is still driven by the energy sector, with prices recording an increase of 15.4 percent compared to last year.
The yearly inflation for non-energy industrial goods is expected to be at 2.7 percent in August, a sharp increase compared to July, when it was at 0.7 percent.
Estonia, Lithuania and Belgium are expected to record the highest yearly inflation in August, with five percent, 4.9 percent and 4.7 percent, respectively.
Countries with the lowest inflation rate for August include Malta, Greece and Portugal, with 0.3 percent, 1.2 percent and 1.3 percent, respectively.
This is the highest inflation recorded in the eurozone in 10 years, according to Bert Colijn, senior economist for the Eurozone at ING. It is also well above the limit of two percent that the European Central Bank (ECB) has set to keep prices in check in the eurozone.
However, the ECB should still remain caution and not act too fast on what could be only a temporary surge, according to Colijn.
"Despite the jump in core inflation and the further rise in headline inflation, this is not set to sway the ECB towards a more hawkish stance ahead of the September meeting next week," said Colijn.
But an abnormal pressure due to passthrough of higher input and transport prices, as well as a potential jump in prices in the service sector once it fully reopens, could still drive the inflation higher, according to Colijn.