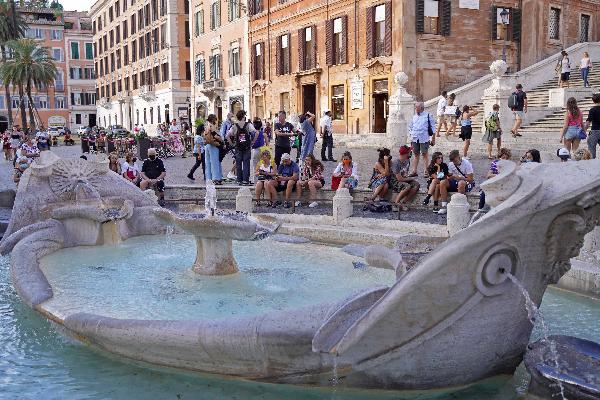 ROME, July 20 (Xinhua) -- Italian exports to the Chinese market in January-April of 2021 grew by some 55 percent from the same period of 2020, according to data from the Italy-China Foundation on Tuesday.
The new data came with the 296-page report "China 2021" unveiled by the foundation's Business Studies Center (CeSIF) in a virtual conference.
It showed that the spike in "Made in Italy" sales there came with the rapid growth of foreign investment to China in 2020 and the first months of 2021.
"China is, and will remain in the next years, one of the great protagonists of post-COVID recovery," Italy-China Foundation president Mario Boselli said in the foreword.
Despite the coronavirus emergency and related restrictions at domestic level and on global trade, China remained the ninth foreign market of reference for Italy in 2020 and Italian exports to China grew by an overall 3 percent on the annual basis.
"Comparing 2011 and 2020 -- in the framework of the European exports to China -- it emerges that Italy has grown more than some other (EU) member countries in textile and in leather and leather goods, which are the two sectors where Italy represents China's main partner in the EU with over a third of all trade," the report explained.
In the perspective of European exports to China, the "Made in Italy"'s share also grew in chemical products, metal items, nuclear technology, and to a lesser extent in transport means.
Italy's imports of Chinese goods and services were worth 32.1 billion euros (37.7 billion U.S. dollars) in 2020, said the report on the base of data from the National Institute of Statistics (ISTAT).
"Italy's trade deficit (with China) further decreased to 10.7 billion U.S. dollars in 2020 from 11.9 billion in 2019," it added.
At the same time, the CeSIF researchers noted China overall boosted its sales abroad last year despite the pandemic crisis. "The growth of Chinese exports in 2020 seems to be in contrast with the exports of other commercial macro-areas such as European Union (- 9.2 percent) and United States (-0.4 percent)," they said.
The Sino-Italian trade was benefitting from this context, according to the report.
It also estimated some 1,700 Chinese companies in the mainland, plus almost 500 based in Hong Kong had Italian participation at the end of 2019. They added to almost 2,000 Italian companies directly operating in the Chinese market. (1 euro = 1.18 U.S. dollars)