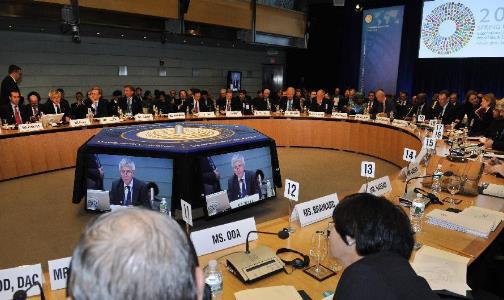 The near-term risks to global financial stability have increased modestly while the medium-term financial stability risks remain elevated, according to a recent report from the International Monetary Fund (IMF), the China Securities Journal reported on Wednesday.
The report titled Global Financial Stability Report was released by the IMF during a press conference held in Indonesia on Tuesday.
According to the report, although the short-term risks to global financial stability remain moderate, they are likely to rise significantly as a result of multiple factors including the mounting pressure in emerging markets, the escalation of trade tensions, the realization of political and policy uncertainties as well as a faster-than-expected tightening in monetary normalization.
"Any of those concerns could become trigger events that could expose the vulnerabilities that have been building during years of accommodative monetary policies," said Tobias Adrian, Director of the IMF's Monetary and Capital Markets Department, during the press conference.
The report says that thanks to a decade-long reform and recovery, the global financial system is stronger now than it was before the 2008 global financial crisis. However, financial imbalances continue to build up, and the new financial system remains untested.
The report highlights the increasing financial pressure facing emerging markets, saying that the rising foreign debts borne by emerging markets make them vulnerable to further capital flow pressures as they lack adequate capital buffers.
As to the global banking system, the report says that although the system is stronger than before the crisis, it is exposed to highly indebted borrowers as well as to opaque and illiquid assets and foreign currency rollover risks.
Looking ahead, the report calls on policymakers to ensure that the post-crisis regulatory reform agenda is completed and implemented.
"Regulators should address vulnerabilities by deploying micro and macroprudential policy tools," said Tobias. "It's the time for more proactive measures to safeguard financial stability."