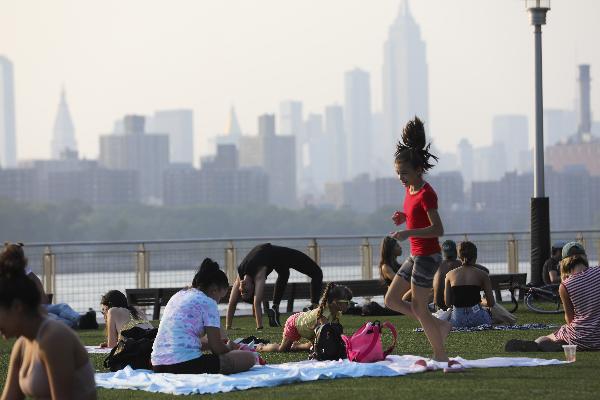 WASHINGTON, July 29 (Xinhua) -- The U.S. economy grew at a lower-than-anticipated annual rate of 6.5 percent in the second quarter, marking the return to an above pre-pandemic level of overall economic activity, the U.S. Commerce Department reported Thursday.
However, the 6.5 percent gain was considerably less than the 8.4-percent Dow Jones estimate.
In the first quarter, real GDP increased by 6.3 percent, 0.1 percentage point less than previously reported, according to the latest data. The U.S. economy contracted a downwardly revised 3.4 percent in 2020 amid the pandemic.
Jason Furman, former chairman of the White House Council of Economic Advisers, said on Twitter that the 6.5 percent annual growth rate in the second quarter means that real GDP is now above its pre-pandemic level, but still below its trend.
Noting that there is still an "output gap," Jay Bryson, chief economist at Wells Fargo Securities, said in an analysis that output is still 2.5 percent below where it would have been had the pandemic never happened.
The increase in real GDP in the second quarter reflected increases in personal consumption expenditures (PCE), non-residential fixed investment, exports, and state and local government spending that were partly offset by decreases in private inventory investment, residential fixed investment, and federal government spending, the Commerce Department report showed. Imports, which are a subtraction in the calculation of GDP, increased.
The decline in inventories translated into a 1.1 percentage point drag on overall GDP growth, Bryson noted. "The sizable decline in inventories over the past two quarters reflects strong growth in spending in conjunction with supply shortages that have hampered production," he said.
Bryson added that as supply chains become functional again in coming quarters, businesses will endeavor to rebuild stocks and this stock building should support GDP growth in coming quarters.
Diane Swonk, chief economist at Grant Thornton, a major accounting firm, said in a blog that overall growth in the second quarter "disappointed," but much of the miss occurred in state and local government spending, "which will be recouped later this year."
A larger concern, Swonk noted, is the "dampening effect" that the Delta variant has on spending in the service sector through the summer months.
"We are becoming accustomed to spending during outbreaks, as Federal Reserve Chairman Jay (Jerome) Powell noted in his comments yesterday, but that spending has been supported by fiscal stimulus. That will wane as we enter 2022," she said.
The GDP data was released one day after the U.S. Federal Reserve signaled that the central bank is inching closer to tapering its asset purchases amid concerns over surging inflation and the rapid spread of the Delta variant of COVID-19.
At a virtual press conference Wednesday afternoon, Powell said U.S. inflation will "remain elevated" in the coming months before moderating to normal levels due to supply bottlenecks.
Bryson noted that the PCE deflator, which is a measure of consumer prices, jumped at an annualized rate of 6.4 percent in the second quarter, the sharpest quarterly increase since 1982.
Echoing Powell's remarks, Bryson said that looking forward, his team expects that inflation will recede from its current lofty levels as spending decelerates and supply comes back online.
"That said, consumers likely will need to contend with a higher inflation rate over the next few quarters than they have been accustomed to in recent years," Bryson added.
In the latest update to its World Economic Outlook, the International Monetary Fund (IMF) on Tuesday projected the U.S. economy would grow by 7.0 percent this year, up 0.6 percentage point from its April projection. The upward revision reflects the anticipated legislation of additional fiscal support in the second half of 2021 and improved health metrics.
In 2022, the U.S. economy is expected to grow by 4.9 percent, according to the IMF.
Joseph Brusuelas, chief economist at accounting and consulting firm RSM US LLP, expects sustained growth above the 1.8 percent long-term trend through next year and likely into 2023, citing the nearly 3 trillion dollars in savings accumulated by American households and long-awaited wage growth that is taking place down the income ladder.