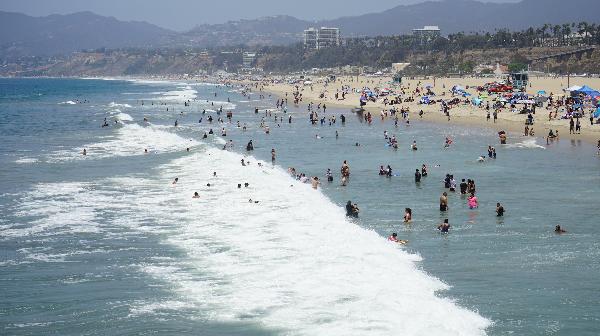 by Julia Pierrepont III
LOS ANGELES, Sept. 7 (Xinhua) -- As imports continue to surge leading up to the peak holiday season in the United States, container ships were being racked, stacked and packed off the twin ports of Los Angeles and Long Beach in numbers nearly five times greater than in pre-COVID-19 times, according to a report of Freightwaves.com Tuesday, a leading source for freight markets.
The August 2021 Logistics Manager's Index (LMI) released Tuesday also showed that transportation capacity remained on a downward trajectory while prices and utilization were "increasing at an increasing rate."
This supply chain survey index was down 70 basis points to 73.8 percent in August, still well into expansion territory and the fifth-highest reading recorded in the history of the dataset.
Moreover, the transportation capacity subindex of the LMI increased 560 basis points to 40.5 percent in August, meaning available transportation capacity was still shrinking during the month, just at a slower rate.
The LMI is a diffusion index wherein a reading above 50 percent indicates expansion and a reading below 50 percent indicates contraction.
The LMI capacity subindex has contracted for 15 consecutive months, Freightwaves.com noted, adding that the data was similar to the website' Outbound Tender Reject Index (OTRI.USA), which shows truckload carriers started to reject loads under contract at a higher clip starting around the same time.
"The spike in imports is unprecedented in scale, breaking new records on a monthly basis," Gene Seroka, executive director of the Port of Los Angeles (POLA), confirmed this situation to the Los Angeles Board of Harbor Commissioners earlier this month.
With 47 container ships currently anchored in San Pedro Bay or drifting off the coast awaiting a berth to unload, according to the Marine Exchange of Southern California, French carrier CMA CGM warned that capacity constraints "are expected to continue until the first half of 2022."
That prediction was seconded last Friday by 50-year-old German shipping company, Hapag-Lloyd, which also didn't anticipate San Pedro Bay congestion would clear until sometime after the New Year.
"We currently expect the market situation only to ease in the first quarter of 2022 at the earliest," said Hapag-Lloyd Chief Executive Officer Rolf Habben Jansen in a statement.
With temporary COVID-19 closures impacting on Ningbo, China's third largest port, forcing seafaring traffic to be rerouted to nearby ports, Drewry Shipping reported that congestion at the ports of Shanghai and Hong Kong was "spiking" as well, which would contribute to delays in West Coast shipping.
In fact, anchorage statistics, purchase orders, ocean bookings, forward arrivals, even inventory-to-sales numbers all indicated that the global shipping congestion crisis was more severe than at any other time in history - and getting worse.
And the holiday season rush is just getting started.
Much of the record-breaking congestion in Southern California's twin port complex was due to U.S. consumers unprecedented demand for goods - primarily imported from overseas. POLA reported a massive 36.8 percent increase in unit shipments in Q1 & Q2 of 2021 and Port of Long Beach (POLB) a 38.5 percent increase over the same time frame.
"Our new automated Container Terminal is helping us handle the increased volume," POLB's Executive Director Mario Cordero told Xinhua, describing the 1.5 billion U.S. dollars new complex as capable of handling "3.5 million containers per year."
That's good news, because "the expected spike in imports generated by the peak season and pre-shipped cargo is already here," carrier Hapag-Lloyd announced.
The holiday shipping season spike, which usually starts as late as September, began months earlier this year, as anxious retailers tried to pre-order inventories to get out ahead of the shipping bottlenecks caused by COVID-19 shutdowns and supply chain breakdowns.
Yet, speeding toward the holidays, increases in port traffic have yet to peak. The POLB's WAVE Report forecast up to a 34 percent increase shortly over this week's traffic, while the POLA' SIGNAL projected a staggering 50 percent increase.
America's import transportation system, already overburdened, would be forced to stretch even more in coming months to try to meet demand. But with an estimated 99.5 percent of the world's container ships already deployed, port berths maxing out, COVID-related labor issues, and a record number of ships stuck idling in harbor unable to unload their cargo on time, more disruption and delay was likely to follow.
But part of the tangled supply chain is political, not logistical.
In part, supply chain issues that have snarled the tightly interconnected and previously smoother-running global matrix of container vessels, ports, and trucking carriers that move the world's vast supply of goods from one side of the globe to the other, were due to the Donald Trump Administration's handling of foreign trade relations and the imposition of costly tariffs, said Seroka in a recent interview with Time.com.
"Those policies hurt the American exporter and primarily the American farmer," explained Seroka.
These difficulties was not gone unnoticed by the Joe Biden Administration, which was urged by any business sectors to fix the previous administration's costly errors.
President Biden announced in a recent press conference that federal agencies were carefully tracking congestion in POLB and POLA, the busiest U.S. port complex, and that, as promised, he was "bringing together port operators, shipping lines, labor unions, railroads, truckers, and others to speed up the ports' operations."
POLA's Seroka was gratified that Biden was taking an interest in the plight of the ports. "To get that kind of attention from the nation's Chief Executive and the people he has put on the case is just awesome," he told Time.
However, Seroka also warned at a press briefing that U.S. ports were "three decades" behind ports in some nations regarding new, digitized software systems to facilitate port operations and supply chain efficiencies.
"For cents on the dollar, we can expand capacity to handle freight" by investing in data-sharing platforms, Seroka contended.
Transportation consultant, Dan Smith of the Tioga Group told JOC.com, an international shipping and logistics news website, that Biden's willingness to address the global supply chain crisis and shipping bottlenecks would open doors for many transportation-related federal agencies, trade associations and industry executives to combine their valuable problem-solving know-how and efforts, unlike during the previous administration where industry experts "kept their heads down."
The sister ports of LA and Long Beach also recommended and are supporting the establishment of workforce training centers to enhance worker productivity, Cordero told Xinhua, such as new training centers to provide more job opportunities for the surrounding communities and support efforts by the International Longshore and Warehouse Union and other transportation unions to create a more robust pipeline of skilled labor.