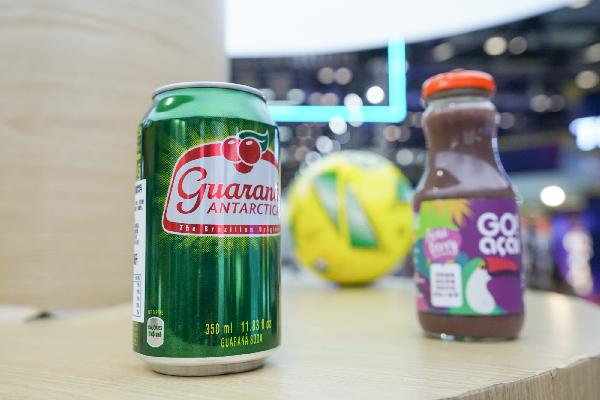 by Xinhua writers Luo Jingjing and Pablo Giuliano
SAO PAULO, Nov. 8 (Xinhua) -- The potential of China's consumer market is of strategic importance to Brazilian food and beverage producers, who expect to further expand their presence through the fourth China International Import Expo (CIIE).
Marcelo Siegmann, director of foreign market with the Brazilian food producer JBS, told Xinhua that China is a "strategic market" for the company, and the Greater China region is one of the main destinations for the company's products, accounting for over 30 percent of its global exports.
"The CIIE is one of the biggest and most relevant fairs in China, JBS is pleased to participate in the event since the first year and be able to show again our diversified portfolio," Siegmann said.
He also noted that "there has been a growth in e-commerce in the protein sector during the COVID-19 pandemic, and JBS needs to adapt our portfolio to this channel, and seek a greater presence with our customers who work in online sales."
Brasil Foods, the poultry and pork exporter with a history of close to 90 years, is also participating in this year's CIIE to expand its business in China.
Beatriz Benedetti, marketing and innovation executive manager of the company, said Brasil Foods expanded its business to the Chinese market 16 years ago and currently has 11 factories being authorized to export its products to China.
"China has the biggest consumer market in the world with a rapid economic growth. Expanding our presence in this market is directly linked to our mission to provide a better life to people around the world, from farm to fork," Benedetti said.
For Miolo Wine Group, it is the fourth time to exhibit its wines at the import fair. The renowned Brazilian winemaker has been cultivating the Chinese market for over 10 years, with China being one of its major export destinations for four consecutive years.
"We have very good expectations for increasing resumption of activities in the post-pandemic era. China is in a good time with its market on the rise and we want to increase the presence in China," said Rafael Boscaini, export analyst with Miolo.
Concentrated orange juice producer Sucorrico believes China is a "very important" market for the company as well as all juice producers in Brazil, said the company's commercial manager Edson Teixeira.
Brazil is the world's largest exporter of orange juice, while China is its fourth largest export destination.
It is the first time for Sucorrico to participate in the CIIE, and it looks forward to expanding its market in China through the expo.
Teixeira said the entire orange juice industry "has a vision of future towards China as a market that has everything to move forward."
Initiated in 2018, the CIIE is the world's first dedicated import exhibition. The intended turnover of previous three import expos reached about 201.6 billion U.S. dollars. This year, the total exhibition area has been expanded to 366,000 square meters, with nearly 3,000 businesses from 127 countries and regions attending the event.